Here's the format. Each episode there are 4-5 tasters with 5-10 whiskeys. Each taster is sent samples and submits their reviews and ratings before the live reveal. Every bottle in the blind tastings has been purchased by me. No outside bottles or media samples will be selected. I try to purchase every bottle at retail but, with today's bourbon market, have to rely on fellow Bourbonr's to source certain bottles.
This month I was joined by Kerry Bossak from Subourbia, Brett Atlas from Bourbon and Banter, Ryan Lintz from The Bourbon Buddy and Four Roses Enthusiast Travis Hill.
Each taster is asked to evaluate each whiskey based on the following scale:
0-60 – Terrible. Bottles should be destroyed
61-70 – Bad. Flavor is off as a whole but shows a few redeeming notes
71-80 – Decent. Could drink in a pinch but probably more of a mixer
81-85 – Good. I want a bottle on my shelf as a daily drinker
86-90 –  Really Good. Everyone should buy a bottle
91-95 – Great. This is phenomenal I would be willing to spend whatever it takes to get a bottle
96-100 – Perfect. This is everything you want in a whiskey and it has no flaws
If you're only interested in the results check out the summary video below. You miss out on the banter and information. But, you may not have time to watch an hour of bourbon discussion.
This month's blind tasting answered several questions for me. First, do bottles begin to deteriorate after being open? There are two bottles of Four Roses 125th in the tasting. The first was opened in 2017 and the second was opened for this tasting. Second, can blends outshine the originals? I used three of my own blends in this tasting. To say that outshined would be an overstep. However, they did do quite well. If you're a distillery looking for a master taster, hit me up 🙂
Here are the results: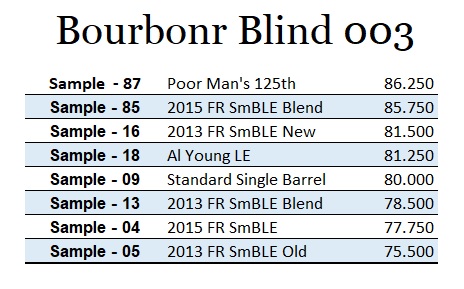 Results by sample:

Blend Recipes: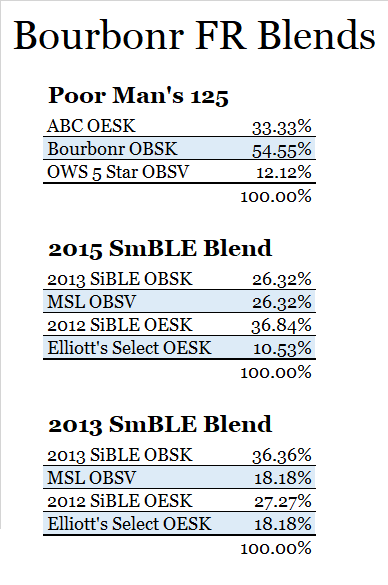 Summary Video: