With St. Patrick's Day tomorrow I thought it would be fun to take a look at some Irish Whiskey's. Your college years may be filled with memories of shots of Jameson. However, Irish Whiskey is so much more than that. There's a lot of great aged Irish whiskey on the market right now. Some of my favorites are Red Breast (15 or 21) and Green Spot. I've also really enjoyed a recent Knappogue 12 year store pick I bought.
There's a new Irish Whiskey brand on the market. Teeling Whiskey Co. is an Irish NDP but they've also built the first new distillery in Dublin in 100 years. They have a long family in the history in Irish Whiskey so I decided to reach out to them for an interview.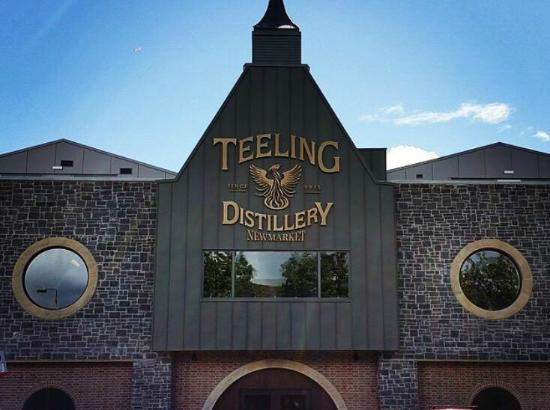 First, here are the legal requirements for Irish Whiskey:
Irish whiskey must be distilled and aged on the island of Ireland; that is, either in the Republic of Ireland or Northern Ireland

The contained spirits must be distilled to an alcohol by volume level of less than 94.8% from a yeast-fermented mash of cereal grains (saccharified by the diastase of malt contained therein, with or without other natural diastases) in such a way that the distillate has an aroma and flavour derived from the materials used

The product must be aged for at least three years in wooden casks of a capacity not exceeding 700 litres (185 US gal; 154 imp gal)

If the spirits comprise a blend of two or more such distillates, the product is referred to as a "blended" Irish whiskey
Tell us how you get started in the whiskey business?
My family has been involved in Irish whiskey for generations. Our original family distillery dates back to Walter Teeling in 1782 who had a distillery in Dublin City. In recent years my father setup Cooley Distillery and myself & my brother are the most recent generation of Teelings to rebuild our family distillery in Dublin. It's been in our blood since we were born so we grew up in a family business of Irish whiskey and this gave us the passion to start our own back in the original place where it started for Teeling Whiskey.
There are no other operational distilleries in Dublin. Why did you choose it as the home of Teeling?
Going back 150 years ago Irish whiskey was the biggest selling brown spirit in the world dwarfing all other whiskies. In the last golden era for Irish whiskey Dublin city was home to some of the world's biggest distilleries. Dublin whiskey got a 25% premium to all other Irish whiskey with 37 operational distilleries in an area called the Liberties in Dublin City. Unfortunately following the collapse of Irish whiskey all of these distilleries shut down and moved to 1 distillery in Cork called Midelton which is now owned by Pernod Ricard. For us we had great pride & passion in our family history of distilling in Dublin but also about reviving distilling right back in the heart of Dublin city. For us when looking to rebuild our family distillery it made perfect sense to go right back to where it all started for us over 230 years ago. It gave us great pride to see the first new pot stills arrive into Dublin city for the first time in over 100 years. Dublin deserved to make whiskey again.
The transition from sourcing to your own distillate is often a tough one for small distilleries. Does Teeling have a time frame on when your own whiskey will be ready to release?
As we took all of our own family barrels with us when we launched we are in a unique position that we can take our time before transitioning our liquid. All of our whiskeys use a hand selection of barrels technique followed by bottling at a higher proof 92′ but also innovative wood treatments. We have a number of pillars that are liquid is based upon and owing to this we can take our time to recreate this style before releasing. As we have aged stock currently we can take a long term view on our liquids ensuring that we don't take them out of cask too soon. Also on our design of our pot stills and our cask management strategy we have continued with certain characteristics that make our whiskeys unique. The earliest we will be able to release anything will be 2018-2019 however as it ages in the wood it might take longer. That's the beauty of whiskey.
Is sourcing harder as popularity increases?
We are in a unique positioned that we sourced a large amount of stock to facilitate us getting back into production. Luckily we have managed to do this very quickly with our distillery in Dublin. As popularity for Irish whiskey increases sourcing quality/mature stock will be much more difficult.
Irish Whiskey, like bourbon, has skyrocketed in popularity over the last decade. Do you think there's a specific reason or just people finally appreciating a great product?
It all comes down to taste. Irish whiskey in previous generations was the world's most popular whiskey as our unique climate always lead to a subtle, flavoursome and fruity spirit. In Ireland it rains a lot but is never too hot or never too cold which leads to very consistent maturation in the barrel. This means that the interaction with the wood is very consistent so the DNA for Irish whiskey is a very eloquent, flavoursome and subtle. For a new generation of Irish whiskey drinker this has been has been the catalyst for the Irish whiskey revival.  With Teeling Whiskey we are trying to innovate while keeping respect for the base spirit but dialling up the taste profile with higher strength bottlings, non-chill filtering and interesting wood treatments like rum, California red wine barrels and a variety of different wine casks.
Aside from Teeling what are your favorite whiskeys?
I am a big fan of some of the Small Batch bourbons like Templeton,  Angel's Envy or Whistle Pig. Also, some of the innovations that Compass Box have produced in Scotland are very interesting.
Any bourbon in that group?
Angel's Envy have followed a very similar path to ourselves bottling at higher strengths but also putting a signature into their liquids through innovative wood treatments. We like producers who are progressive and take risks.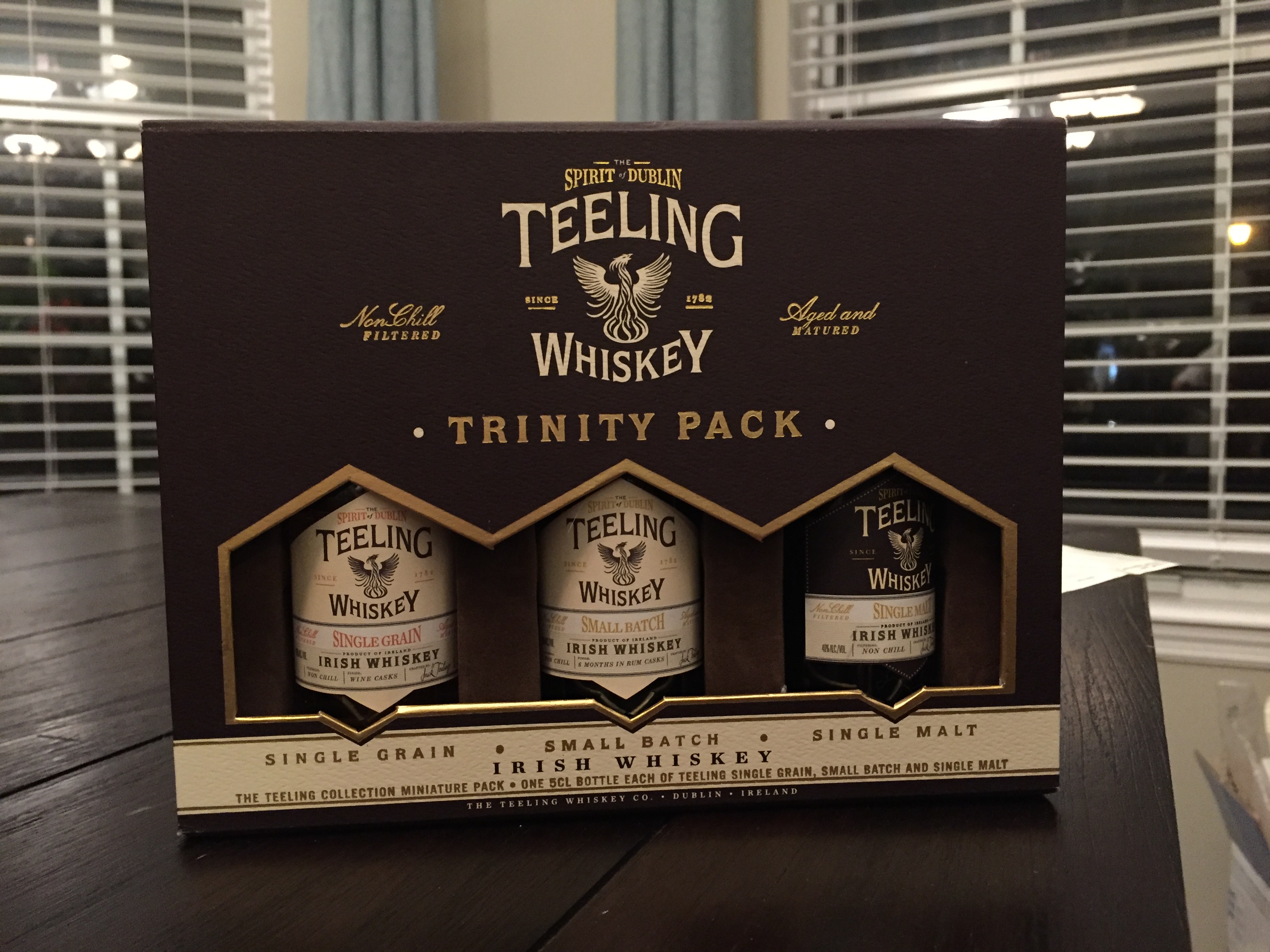 Teeling Single Grain Review
The nose is pungent with alcohol. It's light, but there are some notes of banana and honey. The taste is similar to white toast. There's a raw alcohol taste that makes me think this whiskey isn't very old. It's interesting but probably more of an introductory whiskey.
Teeling Small Batch Review
This whiskey is caramel and brown sugar immediately. It's grainy but still light. The taste isn't nearly as sweet as the nose would lead me to believe. It got a great fruity maltiness to it. Like dried cranberries or dried plums. The oak on the finish brings the whiskey into balance.
Teeling Single Malt Review
Immediately hit with the smell of golden raisins. There are some cereal notes as well. It tastes like almond extract and banana bread. The taste is clean and light. It's almost peachy on the finish.
Time to set down the bourbon and break out some Irish Whiskey in honor of St. Patrick's Day! But, only for one day of course.