How to Age Your Own Whiskey
The aging process is what makes Bourbon Bourbon. Not only taste wise but legally. In honor of my recent post "Bourbon Aging Explained" I decided to give home aging a try. Below are instructions for what I did. I intend to let this age for at least three months before I ever drink more than small sips to taste. Whiskey that is aged in small barrels has a tendency to get an overpowering oak taste so I wouldn't suggest letting it age any longer than one year. However, there is no reason to throw out Whiskey so let it age as long as you would like.
What I Used:
-1 oz. charred oak
(I charred a piece of oak myself that I use for smoking/BBQ)
Give this stuff a sip. It's terrible. I have no clue why it is becoming trendy for people to drink White Dog or "Moonshine". FYI, if it wasn't made by a camouflage still in the woods without the taxman getting his cut, it's not moonshine.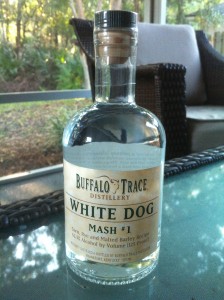 Here is what I like about Buffalo Trace. They released their White Dog to take advantage of the growing market but they also made it 125 proof. This is an important fact because that is the same barrel entry proof they use. Meaning, all Buffalo Trace Bourbons go in to the barrel at 125 proof. Not sure if this was BT's intentions but it makes it perfect for a DIY project like this. There are some other options if you can't find the BT White Dog but I would make sure whatever you use is at least 115 proof.
You can buy it here for $15
-16 oz. Mason jar
What I Would Suggest:
I was in a little bit of a rush on this project but I would highly suggest buying a small barrel to use for aging. Using a small barrel allows for evaporation and oxygen exchange which more closely reflects how Bourbon is aged by the major distilleries.
$64.95 + 
FREE SHIPPING!

[wp_cart_button name="1 Liter Barrel" price="64.95″]
The Process:
Toasting:
I was going for something close to a number 4 char. Number 4 is 55 seconds at 250 degrees. I used a blowtorch and timed 55 seconds on each edge. The oak should look black and slightly shiny.
Now, combine the whiskey and the oak in the Mason jar and you're done. I suggest leaving it outside for aging because the fluctuation in temperature causes the oak to expand and contract forcing the whiskey in an out of the wood.
Daily updates for the first week:
From the bottle:
Taste is very hot and corny. Slightly sweet but nothing I enjoy drinking
Whiskey Aging Day 1: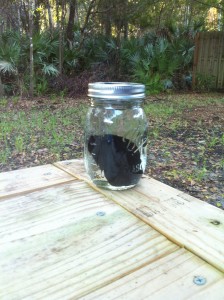 Whiskey Aging Day 2: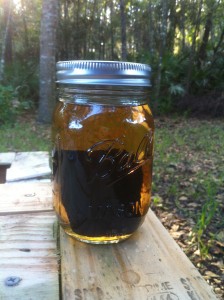 Surprised by how the color has changed already. Taste has already begun to mellow but the only flavors I get are corn, hot and a little wood
Whiskey Aging Day 3: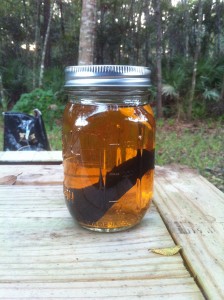 Whiskey Aging Day 4: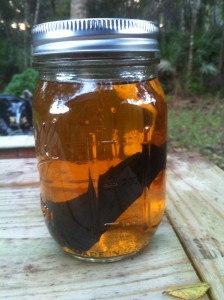 Whiskey Aging Day 5: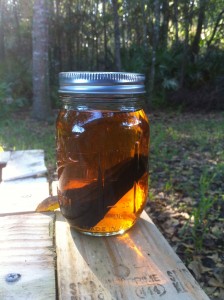 Whiskey Aging Day 6: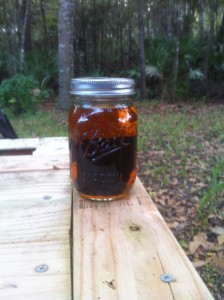 Whiskey Aging Day 7: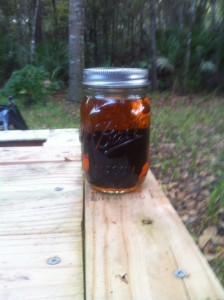 While I will not be buying any week old Bourbon anytime soon, I was surprised by the improvements a week of aging had on the Whiskey. It is pretty amazing what charred wood can do to White Dog in just one week.
 5 month tasting: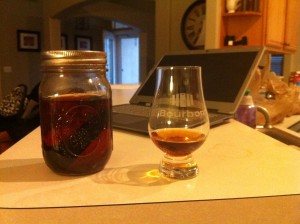 Color: The color is a nice golden/burnt orange. I put it next to Wild Turkey 101 and they had almost the same color. Granted the WT is watered down to 101 proof.
Nose: sweet and slightly smokey.
Taste: Woody and raw tasting. There is a little spice and sweetness. However, the overwhelming taste of woody hot notes makes it pretty tough to really enjoy.
Overall: It's really cool to see how the flavor continues to change but it makes you realize why bourbon is usually aged 6-8 years. My plan is to let the whiskey continue to age and occasionally taste test.