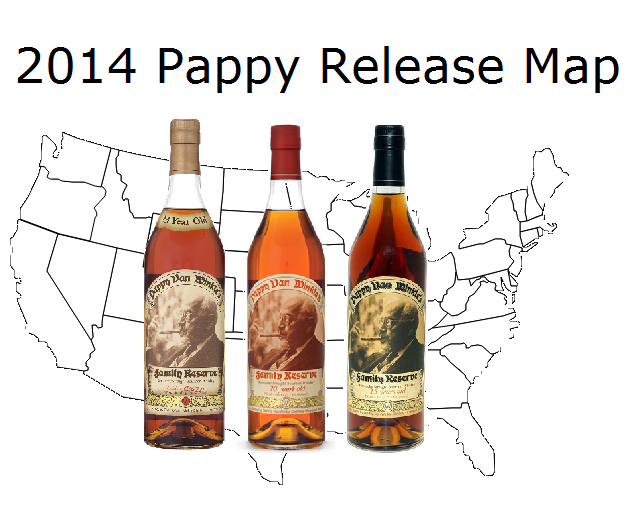 Pappy Van Winkle Release Date
*Please Read: Each state is highlighted once one bottle is reported. Generally, that means that store, and a lot of times that city, is already sold out. This map isn't an official release tracker from Buffalo Trace but a network of bourbon drinkers looking to help each other. Stores are dealing with smaller allocations and greatly increased demand. Please be understanding of this fact. Happy Hunting! *
With fall bourbon releases already in full swing everyone is still waiting the release of Pappy Van Winkle. I'm not sure what comes after "cult status" but I'm pretty sure we will see it in the release of the 2014 Pappy Van Winkle. Remember that there are only about 22k-24k (by my best estimates) bottles released a year. With flippers realizing they can make a $ off of Pappy and a huge influx of new bourbon drinkers the odds are not in your favor. But, that's what this map is for :). My hope is to help people find and enjoy a bottle of Pappy Van Winkle (or from the Van Winkle line).
As with last year I will be updating this map as each state receives Pappy. If you know of a release or were able to score a bottle please let me know at Blake@Bourbonr.com. Based on last year we still have a couple weeks until we begin to see Pappy released however the Buffalo Trace Antique Collection surprised everyone with an early release this year so it's important to be ready for anything. Especially when it comes to hunting bourbon.
If you're looking for another tool to help you find Pappy this year the Pappy Tracker app has added some really cool new features including a "Buy Online", push notifications releases and a Pappy calendar feature. Happy Hunting!

It wouldn't be a Pappy release without some confusion! If you know of a bottle that you believe is 2014 check the small black laser code on the back/bottom of the bottle. If it says B14###### that's a 2014 release. Let me know if you have a 2014!
There's been a lot of questions about how Total Wine will handle their Pappy Van Winkle release. According to a TW  representative (someone in corporate not just a store rep) Total Wine will hold their Pappy Van Winkle allocation and make an announcement in February about how they will sell it. Don't expect to see any bottles until March or later.
10/23 – North Dakota becomes the first state to receive Pappy! Iowa and West Virginia receive Pappy
10/24 – Virginia is for Pappy! Maryland also receives Pappy today
10/29 – Wisconsin (Small allocation in Madison)
10/30 – Pappy Van Winkle hit shelves in North Carolina and Southern Illinois today
11/1 – Texas and Indiana have Pappy
11/3 – Pappy Van Winkle in South Carolina
11/4 – Pappy in Kentucky and Arkansas! Add Kansas to the Pappy Release  list
11/5 – Pappy in East Tennessee and Arizona
11/6 – Pappy in Washington DC
11/7 – Delaware received Pappy Van Winkle.
11/10 – Rhode Island and Michigan has Pappy.
11/11 – New Hampshire (State regulated) and Ohio (small allocation, mostly to restaurants) has Pappy. Add Mississippi to the list
11/12 – Pappy Van Winkle spotted in Chicagoland. Now Maine has Pappy
11/13 –  Pappy in Alabama. If you're not in line yet you're probably out of luck. Pappy Van Winkle hits Georgia (Macon, not Atlanta yet). South Dakota has Pappy. Pappy Van Winkle hits store shelves in New Jersey
11/14 – Pappy Van Winkle is in Missouri. Pappy Van Winkle is in Massachusetts
11/15 Colorado and Oregon see their first (and maybe only for Oregon) bottles of Pappy Van Winkle
11/17 – Pappy in Nebraska
11/19 – Vermont and Minnesota now reporting Pappy Van Winkle
11/20 – Montana received a small allocation of Pappy Van Winkle
11/24 – Wyoming has Pappy
11/26 – Pappy in Florida!
12/1 – Pappy Van Winkle hits shelves in West Tennessee and New Mexico
12/3 – Pappy Van Winkle has made its way to Idaho. Louisiana sees it's first Pappy
12/5 – Pappy Van Winkle lands in California (BevMo email) and Connecticut
12/11 – Pappy Van Winkle sold out in record time in Pennsylvania this morning
12/12 – Washington sees it's first Pappy Van Winkle in the form of a BevMo lottery
12/15 – Pappy Van Winkle released today in New York (No NYC reports yet)
12/16 – Pappy Van Winkle in NYC
12/23 – Pappy Van Winkle has made its way to Utah. Your move Oklahoma