Wild Turkey Forgiven Bourbon/Rye Review
Wild Turkey is a blend of bourbon and rye. They are the first of the major distilleries to release this kind of blended whiskey (High West has their Bourye and Son of Bourye). I am a huge fan of Wild Turkey ( Wild Turkey 101 and Rare Breed are cabinet staples for me) so I was excited to give Forgiven a try. Here is the story behind Wild Turkey Forgiven:
Not all mistakes are created equal – just ask the Wild Turkey® Bourbon Distillery crew who unwittingly mingled very rare, high-proof Rye with perfectly-aged Bourbon. The result is Wild Turkey Forgiven, the first nationally-available, 91-proof, small-batch Bourbon and Rye whiskey. Despite its accidental beginnings, Wild Turkey Associate Master Distiller Eddie Russell quickly realized that he had an exceptional whiskey more than worthy of bringing to market, hence the name "Forgiven." Made from 78 percent 6-year-old Bourbon and 22 percent 4-year-old Rye, the whiskey opens bold and finishes smooth, with tasting notes of creamy vanilla and oak, and a peppery, cinnamon finish.
Is the back-story true or something dreamed up by the marketing department at Wild Turkey? I don't know, but either way I like the story. I just imagine some of the distillery workers having a "were going to get fired" moment and then, to their surprise, getting praised for their actions after Master Distiller Eddie Russell tastes the whiskey. It reminds me of the office episode when Michael adds discount coupons, in the form of golden tickets, to 5 boxes of paper, all of which end up at the same business. Believing he will be fired for his slip up he makes Dwight take the fall. Their boss comes in angry over the mistake but quickly has a change of heart after finding out that the client that received the discounts decides to make Dunder Mifflin their sole paper supplier (for reference).
Story telling has always been a big part of whiskey and bourbon history but there is no way that every single distillery is using their great-great-great-grand fathers recipe which was used during prohibition.
Now, on to the review:
Appearance: Lighter, more of a orange blossom honey color
Nose: caramel, spice from the rye, a little bit of candied ginger
Taste: caramel, vanilla, mint, spearmint, with charred oak on the back end
Finish: short, a smooth finish but it is short
All in all I really enjoyed Wild Turkey Forgiven. If you like higher Rye Bourbons like Four Roses and Bulleit you would definitely enjoy Forgiven. I would like to try Wild Turkey Forgiven after a few more years in the barrel. Older does not always mean better but it would be interesting to see how the two blend after a little more time to mature. Wild Turkey is already a higher rye mash bill so by adding 22% rye whiskey those rye flavors and spices really shine through.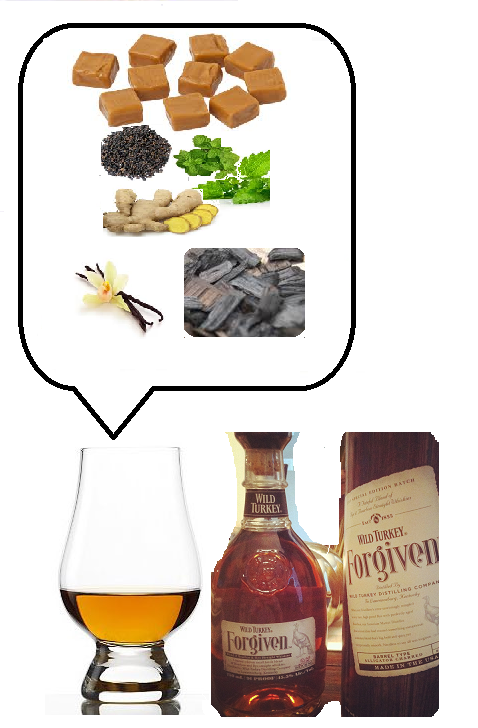 Score: 85/100