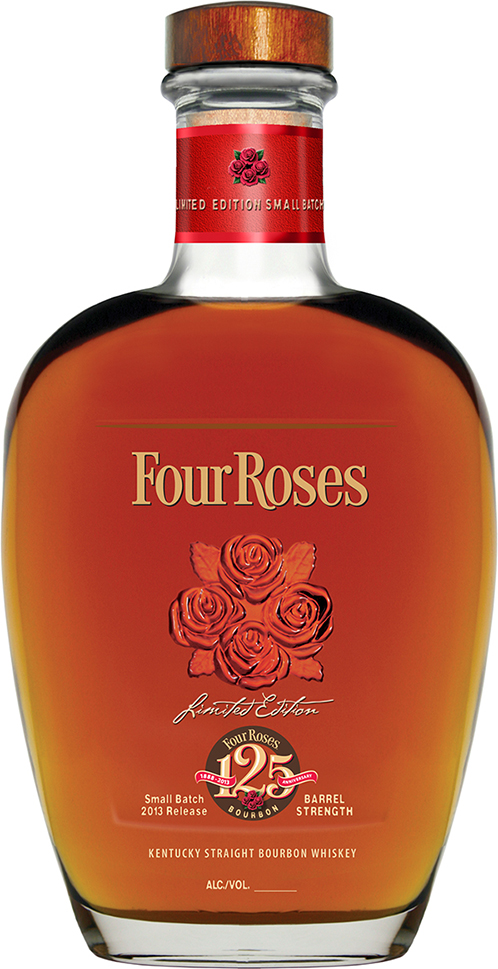 Fall is like Christmas for most Bourbonr's
During the fall it feels like distilleries are releasing new bourbons every week.
Here is a partial list of the Bourbons and Whiskies set to release this fall:
(the release I am most excited about) – This year, to commemorate their 125 years of distilling, Four Roses is releasing their Limited Edition Small Batch. "The recipes, each with different flavor characteristics, include an 18-year-old selection of Four Roses' recipe coded OBSV (featuring delicate fruit, spicy and creamy characteristics), a 13-year-old OBSK (rich in spiciness, full body), and a 13-year-old OESK (spicy, full body)."  If you're not familiar with Four Roses they have ten unique recipes (2 mash bills, 5 yeast strans) which they use to craft their bourbons.
Angel Envy first released their Cask Strength Whiskey last June to superb reviews. Including a first place tie on F. Paul Pacult's Spirit Journal World's Top 10. Unfortunately, I missed out on the first release…..That won't happen again 🙂
"Angel's Envy Cask Strength is unlike any bourbon you've ever tried. We judge only a handful of barrels exceptional enough for our lengthy ruby port cask finishing process. The result? Even at 123 proof, every sip is rare and worth savoring. A remarkably complex and unfiltered bourbon, we suggest you enjoy it neat or with just a splash of water to release the flavor nuances, and perhaps with a few friends who appreciate outstanding bourbon. Angel's Envy Cask Strength was worth waiting for. Now it's worth sharing."
Now, I loved Elijah Craig's Barrel Proof Bourbon and enjoyed the 20 year so I am sure Heaven Hill will not disappoint however the biggest criticism of the 21 is it's one year older and $100 more expensive than last years release. Still, could be an interesting bourbon. I still want to do a tasting with the entire EC family: 12, BP, 18, 20 & 21
-George T. Stagg (my personal favorite)
The 2013 George T. Stagg was found in Warehouses I, K and Q. This uncut, unfiltered bourbon was distilled back in the spring of 1997 and weighs in at 128.2 proof, not as strong as some years, due to the location of the barrels on lower floors. This whiskey tastes of fudge, vanilla, and tobacco.
-William Larue Weller
The 2013 offering was distilled in the spring of 2001 and aged on the third and fourth floors of Warehouses M and P. This William Larue Weller release registers in at 136.2 proof. It tastes of dates, caramel, and brown sugar.
-Eagle Rare 17 Year
The barrels selected for this batch were actually aged for 19 years, and the taste has been described as dry, with hints of oak, leather, and tobacco.
-Sazerac Straight Rye 18 Year
This 2013 rye whiskey release was aged in Warehouses K and is described as mellow spice, vanilla sweetness, mint, and a dry finish.
-Thomas Handy Sazerac Straight Rye
This year's Handy was distilled in the spring of 2007, aged on the seventh floor of Warehouse K and weighs in at 128.4 proof. The flavor has been described as toffee, clove, and allspice.
-Pappy Van Winkle 15 Year
-Pappy Van Winkle 20 Year
-Pappy Van Winkle 23 Year
-Old Rip VanWinkle
-Van Winkle Lot B
-Van Winkle Family Reserve Rye
Double Malt Selection – Tasting Notes:
Malt Whisky (Used barrel maturation)
Color – Light straw
Aroma – Buttery shortbread with a delicate citrus and vanilla character.
Taste – Hints of chocolate malt, honey, buttery shortbread and a touch of lemon custard.
Finish – Long, warm and malty.
Straight Malt Whisky (New barrel maturation)
Color – Orange brown
Aroma – Soft malt- like cereal notes with a rich oak character that dips into layers of caramel and vanilla. All spiced with hints of cinnamon and clove.
Taste – A creamy balance of new cask sweetness and spice with a rich pear and banana fruitiness. Rich warm oak notes run throughout.
Finish – Long, warming and vibrant.
Late Summer/Early Fall releases
Stagg Jr.
Old Foresters Birthday Bourbon
Wild Turkey Forgiven
Jim Beam Signature Craft Rare Spanish Brandy Bourbon