Occasionally, I find myself bored and digging through old archives of Straight Bourbon. These information hunts usually result in some interesting material. Today's hunt was no exception. This information was posted by Bourbon writer, Chuck Cowdery. The post by Chuck is his response from, Buffalo Trace CEO, Mark Brown. Mark provides the origins of the first BTAC bottles. It also proves that Chuck has probably forgotten more bourbon information than I will ever know.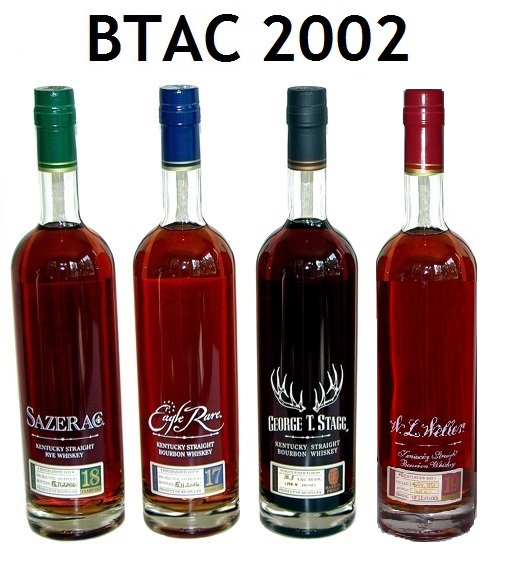 Weller 19 was part of the stock of old Stitzel-Weller inventory that came along with the Weller purchase.

Sazerac Rye 18 was part of a batch of straight rye whiskey made at Ancient Age/Buffalo Trace under the Cream of Kentucky DSP in 1981, that had become completely lost in their inventory. They only found it after a complete review and inspection of their barrel inventory.

Eagle Rare 17 was part of their "rye mash bourbon #2" inventory.

The Stagg 15 from their "rye mash bourbon #1" inventory.

Three cheers for Buffalo Trace, for making great whiskey and for providing good information about it.
Remember, the original BTAC lineup only included three bottles and added Stagg in 2002 (Weller 19, Sazerac 18, Eagle Rare 17 and George T. Stagg). It's commonly accepeted that Weller 19 was Stitzel-Weller stock. What's interesting is the explanation of Sazerac 18. Most know that Sazerac 18 was stored in steel tanks since 2005. However, no one knew the source of the tanked whiskey. When I asked Kris Commstock this question in 2015 he replied "it has always been Buffalo Trace whiskey." Now I understand that answer. One more interesting note is that the original Eagle Rare 17 was mash bill #2. I wonder when it moved to mash bill #1?
What do you think? Feel free to speculate or comment on any of the above.