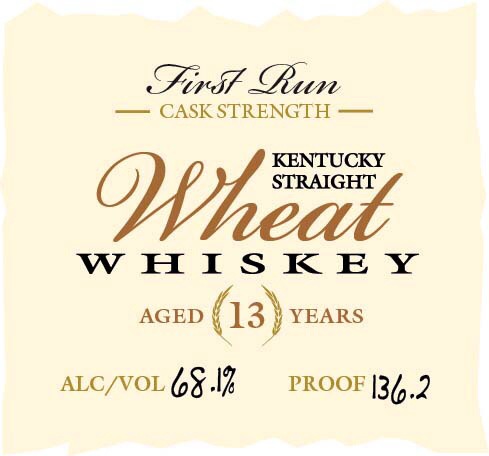 Parker's Heritage Collection 8th Edition Wheat Whiskey
This information was first published by Sipp'n Corn on twitter and hasn't been officially announced by Heaven Hill yet but the announcement should come any day now.
Here's the Heaven Hill Parker's Heritage Collection 8 press release (not available on HH website yet). https://t.co/TvzttoIieL

— Sipp'n Corn (@SippnCorn) September 8, 2014

The press release is pretty long so I highlighted the important facts.
Heaven Hill Press Release:
HEAVEN HILL DISTILLERIES ANNOUNCES RELEASE OF 2014 PARKER'S HERITAGE
COLLECTION LIMITED EDITION BOTTLING
8th Edition of annual ultra-premium release will feature rare 13-year-old cask strength
wheat whiskey and will continue support of ALS research and treatment.
BARDSTOWN, KY- Heaven Hill Distilleries, Inc., the country's largest independent familyowned
and operated spirits producer and marketer, announces the 2014 limited edition release of
Parker's Heritage Collection. Heaven Hill, who holds the world's second largest inventory of
aging American Whiskey, will be shipping the rarity into selected markets across the country
beginning in mid-September and it will hit retail shelves in September and October. The annual
release of the Parker's Heritage Collection bottling, of which this represents the 8th in the series,
is always highly anticipated by whiskey lovers worldwide and the bottlings are some of the most
lauded and coveted releases of the year.
This year, for the first time, Heaven Hill will be using an American Straight Whiskey style other
than Bourbon for the Parker's Heritage Collection release. The 2014 edition will feature 13-yearold
straight wheat whiskey, bottled at cask strength and non-chill filtered. The barrels used for
this year's offering were from the very first run of what later would become Bernheim Original
Straight Wheat Whiskey. With a minimum of 51% soft winter wheat in the mash bill or grain
recipe, Bernheim the only straight wheat whiskey produced by a major American distiller and has
been available since 2005. For this reason, this year's Parker's Heritage Collection release has
been dubbed "Original Batch Kentucky Straight Wheat Whiskey".
The release will be comprised of two small batch dumps, the first of which will be bottled at a
robust 127.4° proof or 63.7% alcohol by volume. The cask strength and lack of chill filtering
mean the whiskey is bottled much as it came out of the barrel after 13 years of aging on the top
floors of Rickhouse Y on the Heaven Hill property in Bardstown. Heaven Hill announced in June
that they were repackaging the Bernheim Original Wheat Whiskey to add a 7 year age statement,
but the additional 6 years of maturation gives the Parker's Heritage Collection Original Batch
Wheat Whiskey even greater complexity and depth. The soft, biscuity profile of Bernheim is
tempered with additional oak and char notes, and the finish is long and spicy.
Heaven Hill Master Distiller Emeritus Parker Beam, for whom the acclaimed series is named, was
diagnosed with Amyotrophic Lateral Sclerosis (also called ALS or Lou Gehrig's disease) several
years ago. Last year's edition of Parker's Heritage Collection, called the "Promise of Hope"
release, raised over $300,000 for the ALS Association's Parker Beam Promise of Hope Fund
through a $20 per bottle contribution made by Heaven Hill. Heaven Hill will continue with this
cause-related campaign, and will contribute $5 from the average national retail cost of $89.99 for
every 750ml bottle sold of this year's "Original Batch" release to ALS research and treatment.
With every past edition of Parker's Heritage Collection selling out of Heaven Hill's warehouses,
the company expects to generate an additional $65,000 to battle ALS through this year's edition,
which is not as broad a release as last year's "Promise of Hope" bottling.
This year's release of Parker's Heritage Collection promises to be a worthy successor to the
previous seven releases, which, having won multiple awards from Whisky Advocate magazine,
Whisky Magazine and the San Francisco World Spirits Competition, stand as some of the most
critically lauded American Whiskeys in recent memory. Past bottlings have won awards ranging
from "Best North American Whiskey" to "American Whiskey of the Year" to "Best of Show, Brown
Spirits ." As a result, the Parker's Heritage Collection releases have become some of the most
anticipated and sought after bottlings of every new year.
Packaged in the same upscale 750ml bottle as the previous six editions but with a buff colored
label, the Parker's Heritage Collection Original Batch Kentucky Straight Wheat Whiskey bottling
reflects the care and craftsmanship of its contents. Available in a three bottle case, it will be
featured on the shelves and back bars of the nation's finest spirits retailers and on-premise
operators starting in September. With the ever increasing interest in American Whiskeys,
especially ultra-premium bottlings, consumers will have to act quickly to secure a sample of the
rarity.
"American Whiskey connoisseurs have every year come to eagerly anticipate the announcement
and introduction of the new Parker's Heritage Collection release", noted Susan Wahl, Senior
Brand Manager for Whiskeys at Heaven Hill Distilleries. "With the additional interest of an extra
aged wheat whiskey, the cause-related contributions to ALS treatment and all the attention the
Ice Bucket Challenge has focused on it, we anticipate this year's Parker's Heritage Collection
Original Batch Kentucky Straight Wheat Whiskey to be another highly regarded release."
Founded in 1934, Bardstown, KY-based Heaven Hill Distilleries, Inc. (www.heavenhill.com) is the
nation's largest independent, family-owned and operated spirits producer and marketer and the
world's second-largest holder of Kentucky Bourbon. Heaven Hill's diversified portfolio of brands
includes Evan Williams Bourbon; Larceny, Elijah Craig and Henry McKenna Bourbons, Burnett's
Vodkas and Gin; Admiral Nelson's and Blackheart Rums; HPNOTIQ Liqueur; The Christian
Brothers Brandies; PAMA Pomegranate Liqueur; Domaine de Canton Ginger Liqueur; Lunazul
Tequila; Cinerator Hot Cinnamon Flavored Whiskey and Rittenhouse Rye Whisky. Heaven Hill
reminds you to "Think Wisely. Drink Wisely."
Should be one of the more interesting releases this fall!