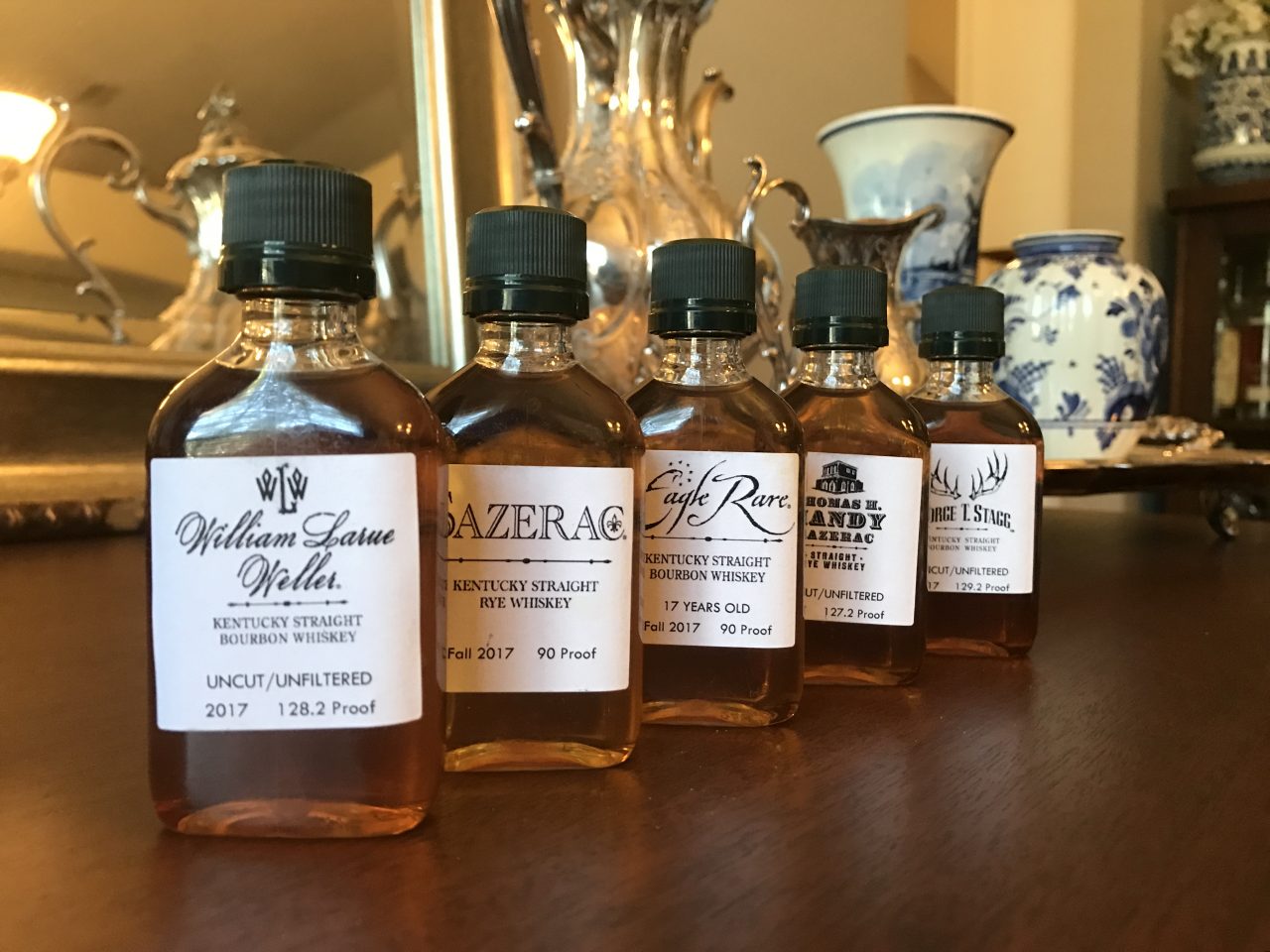 I know what you're thinking. This is the third BTAC post in less than 10 days! It's easy to get burned out by the fall bourbon craziness. I promise, aside from the map updates, this is the last BTAC post for a while. In this post I reviewed all five 2017 Buffalo Trace Antique Collection Whiskeys. These samples were provided by Buffalo Trace.
You may be thinking that these reviews are pointless. The bottles are almost impossible to find and no one will pass based on a positive or negative review. I would agree. If you see a bottle, buy it. But, there are a lot of stores moving to a lottery system. These reviews may help people make better decisions when given the option between one bottle or another.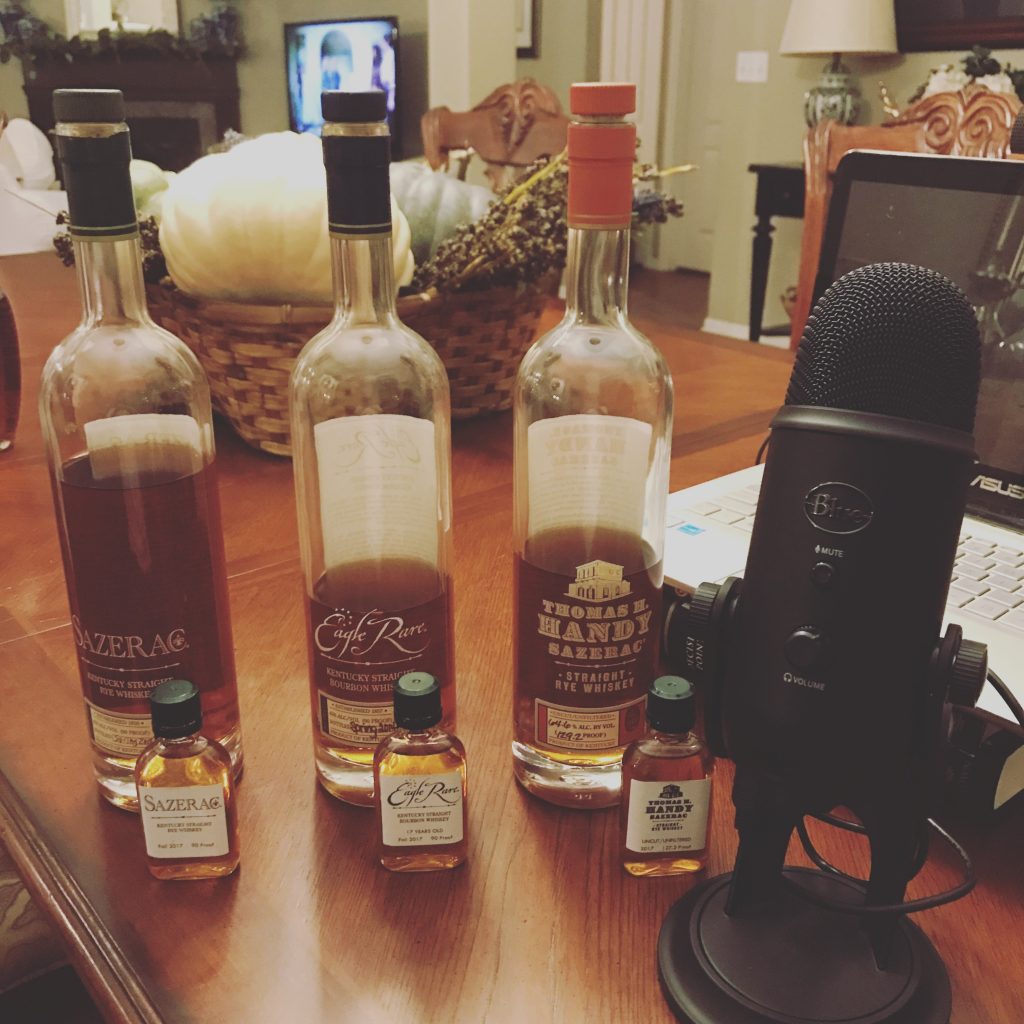 Eagle Rare 17 Review:
Oak and leather on the nose. It's mildly sweet with orange peel. The vanilla makes way for the charred taste of black tea. A great example of balanced flavor profile at a higher age. The tannic notes are apparent on the finish but I still get hints of cinnamon and mint.
Conclusion: This is an above average release of ER 17. I wouldn't put it in my top 3 Eagle Rare releases but it's good. With only 1,500(ish) bottles released, we'll be lucky to even see this one at bars.
Sazerac 18 year Review:
The nose is fruity with notes of melon, berry and juicy fruit gum. There are some spice notes. Notes like black pepper, cinnamon and nutmeg show up on the taste. The well-balanced age shows as the taste moves from tobacco sweetness and oak and spice on the finish.
Conclusion: This is a good showing from Sazerac 18. It's not quite as good as the 2015 bottle I tasted next to it. But, it's better than the 2016 release and builds my faith in the brand as it moves away from the "tanked" releases.
Thomas H. Handy
I'm thrown by this THH nose. It's grainy and corny. It a powerful nose with the graininess moving to peach and green apple. The taste is more reminiscent of what I expect from THH. There are huge notes of grapefruit, brown sugar, vanilla, and black pepper. The finish is incredible with lingering notes. fruit and spice.
Conclusion: If you watched the live reviews you noticed that I was confused by this whiskey. I thought and was interesting and enjoyed it, even more, when I tasted a second time. Again, this is an above average THH release.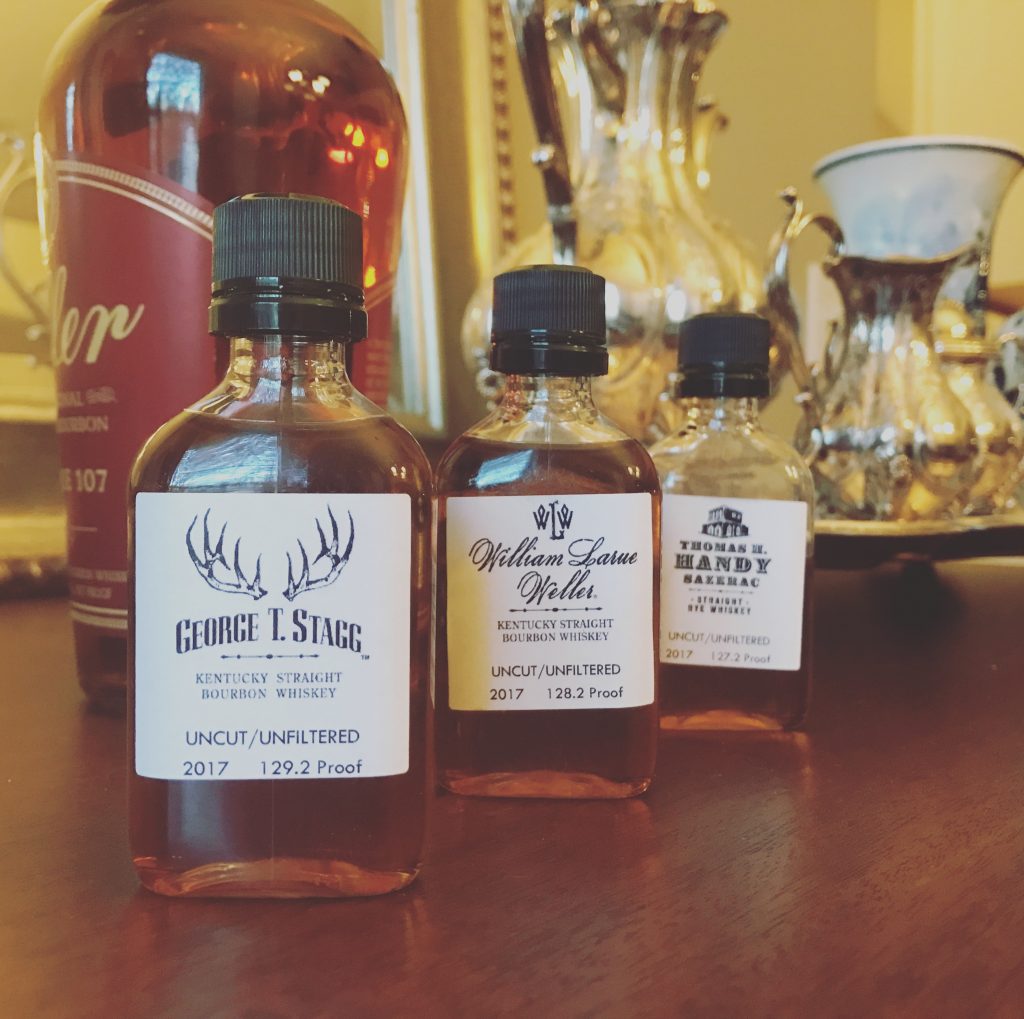 William LaRue Weller Review
The nose opens up with honey, cherry, and a little dark chocolate. It's a little floral leading into more caramel notes. The taste is heat with caramel, dried cherries. There are more honey, vanilla, and figs. The finish hits you with dry oak and bitter chocolate. The fruitiness lasts for a while.
Conclusion:  This is a great bourbon. WLW is one of my favorite bourbons. If get a bottle. Consider yourself lucky. If you're at a bar and they have a bottle, spend the $$$ to try it.
George T. Stagg Review
Immediately hit with the brown sugar syrup from Stagg. It's dark cherry, orange peel, and minty spiciness. I don't talk a lot about the mouthfeel of a bourbon but this has a great viscosity to it. It's think and sweet. There is baking spice with cinnamon and nutmeg. The tannic notes come out in the end with black tea and oak. The finish is a tad short with char and acidic green apple. All in all is well balanced throughout.
Conclusion:  If you couldn't tell by the notes, I really enjoyed this bottle. Was it better than (my all time favorite) 2014 George T Stagg? No, but we're splitting hairs to find any disparaging notes.
Final Thoughts On The 2017 BTAC:
This was an impressive year for the Buffalo Trace Antique Collection. While I don't think there were any shooting stars I thought each release was above average in 2017. Nothing was off profile. What's even better on the 2017 BTAC is the bottle counts!
Here is the live review I did on the Bourbonr Facebook group. If you get a chance, subscribe to my YouTube channel. There will be more videos coming over the next few months.
Interview with Kris Comstock – Marketing Director Buffalo Trace
What happened with George T Stagg in 2017? There are a lot of excited Bourbonr's because of the increased bottle count.
– We've been unfortunate in the past few years as our GTS barrels have had poor yields. Luckily, in 2017, we not only had more barrels but the yield was much better.
This is the 16th release of George T. Stagg and the bourbon. The barrels are typically 15 years old. Does the early success play a part in the increased barrels we see in 2017?
– We've been making more all along. Both Stagg and Weller have increased bottle counts and that's due to good planning and good yields. Those two don't always go together but it's nice when they do.
– With Stagg in particular, we taste Buffalo Trace barrels at eight years. If the barrel is exceptional we have the option to hold for another seven years for Stagg. It's all a balancing act because if you hold too many barrels you're robbing from other brands inventory.
What happened with the Eagle Rare 17 release?
– There was some leakage but for the most part, it was evaporation. We taste the samples and pick which barrels we want. Then the barrels are pulled and there were a lot of light barrels in that batch that was selected.
Does the Sazerac 18 compare to last year's release as well as the tanked releases?
– I think it's a little drier than last year's release. But this batch is great rye whiskey in line with what we expect from Sazerac 18.
Any standouts for you with the 2017 BTAC?
– They're all great! It's like picking a favorite kid. I'm consistently a George T Stagg guy. It's my perennial favorite. I loved the Weller. I believe it was Harlen's favorite this year. For me, the Stagg just hits all the high points.
What should we be on the lookout for from Buffalo Trace over the next few years?
– We have over 14,000 experimental barrels that are currently aging. That could mean a lot of different things based on how those barrels turn out. We'd also like to have a limited release in the E.H. Taylor line every spring. We may not hit that timeline every year but that's the goal. Then there are projects like the Single Oak. We selected the winning bourbon which was a 24-month aged stave from the bottom of a tree. The staves are almost ready. After that will fill and age the bourbon. That will be a 2025 release.
Do you think the bourbon fandom has changed or influenced what Buffalo Trace does?
– We're whiskey geeks. We're a craft distiller on a larger scale. Our goal is to make great whiskey. But also to experiment and try new methods