Pappy Van Winkle Substitutes
There are several lists  of  "Pappy Van Winkle Substitutes" floating around. However, some of them are full of errors while others are just a list of several popular bourbons/ryes. I decided to put together a list of a few bourbons that will make a decent substitute for Pappy Van Winkle as well as include the reasoning for why they will be a good substitute. Technically, Pappy is only the 15, 20 & 23 year. The 10, 12 (Lot B) and rye are Old Rip Van Winkle. I use the terms interchangeably since most people just want "pappy" whether it's 10, 12, 15, etc.
As I explained in a previous post a W.L. Weller and Weller Antique blend makes a great Pappy Van Winkle Alternative.
Photo courtesy of @davidchumphreys
All Weller's 
These bourbons would most closely resemble the Old Rip Van Winkle 10 year and Lot B (12 year).
Buffalo Trace uses the same mashbill for Pappy (all but the 23 year for the 2013 release). While Old Rip Van Winkle probably gets first pick of the barrels the Weller line is still good bourbon at a much cheaper price. More importantly, you can usually find them sitting on liquor store shelves across the country.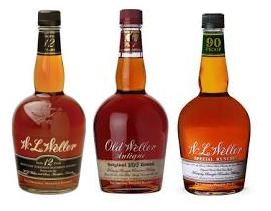 William Larue Weller
Yes, I know this is a part of the Weller line but it can be just as hard to find as Pappy Van Winkle so I separated it. The 2013 release is 12 years and one month old. Basically, William Larue Weller is Old Rip Van Winkle Lot B on steroids. Consider yourself lucky when you find a bottle of this (and send me a sample :)).
Jefferson's Presidential Select 17/18
This is another rare bourbon but it comes from the same famed Stitzel-Weller distillery as Pappy Van Winkle did. Jefferson's Presidential Select is an older bourbon nestled right between two Pappy releases. The Jefferson's Presidential Select would most closely resemble the Pappy Van Winkle 15 or 20 year. JPS is lacking in some of the complexity you get in Pappy, probably due to the fact the the Van Winkles get their pick of the "honey" barrels, but still packs the heavy wood punch you expect from older bourbons. Jefferson's has since released a 21 and 25 year old bourbon. The JPS 21 & 25 are rye based mashbills and different than the wheat mashbill used in Pappy Van Winkle and Jefferson's Presidential Select.
Others
Sku of Sku's Recent Eats published a list on his blog of all of the wheated bourbons available. If you aren't able to track down any of the above mentioned bourbons you may want to give some of the bourbons on his list a shot. Yes, Makers Mark is a wheated bourbon (the small amount of rye used in most bourbon recipes is exchanged for wheat). While I do enjoy Makers Mark I don't think it would win a head to head battle with any of the Pappy Van Winkle bottling's.
Have you tried one of these fine whiskies?
Add it to your Whiskey Library and start reviewing bourbons now!