Whistle Pig – The Boss Hog Rye Whiskey Review
Proof: 134
Price: $140-$170
Age: 12 years
WhistlePig The Boss Hog Single Barrel Cask Strength Straight Rye Whiskey (this may be the longest title I've seen on a whiskey) is a limited-edition 100% rye whiskey. WhistlePig The Boss Hog Straight Rye Whiskey is the product of a single barrel, and only 24 barrels of this whiskey have ever been bottled. By doing some math and estimating a 55% loss due to evaporation (pretty typical for a 12 year old barrel) my guess is there was about 2,900 bottles released. Consider yourself lucky if you are able to find a bottle, especially if you're a fan of rye whiskey.
If you're not familiar with Whistle Pig here is a brief background. It was started by Raj Peter Bhakta, entrepreneur and former Apprentice contestant, who then brought in former Makers Mark master distiller Dave Pickerell. The two then found "lost"  barrels of aged 100% rye whiskey in Canada and Whistle Pig was born. Their goal is to produce a farm to bottle rye whiskey on their Whistle Pig farm in Vermont. I think it is a really cool idea to source your own rye, distill, barrel and age the whiskey all at the same site. However, that is not what is in the current bottles. We still have to wait several years before the Vermont farm whiskey is ready.
The unique thing about Boss Hog is that it is a 100% rye mash bill. No word on the source of this whiskey. Whistle Pig has previously purchased their rye whiskey from Alberta Premium Distillery but it is rumored that they have been purchasing from other sources recently. If I had to guess I would say this is Alberta juice but that is just my assumption.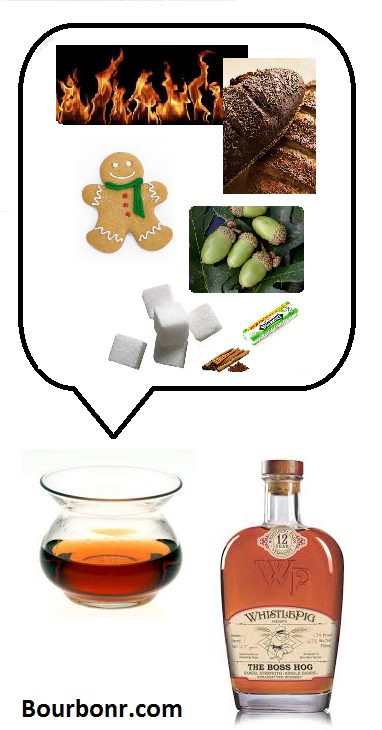 Color: Gold. A little lighter than expected for barrel proof but still a rich color
Nose: Powerful, a big hit of rye, sugar, vanilla
Taste: Big flavor, pumpernickel bread, ginger bread cookie, green wood, a hint a spearmint but a lot less than I expected.
Finish: Hot, but a nice long finish
Clay Risen describe it as "drinking liquid pumpernickel bread" and I think that is right on. WhistlePig plans on making this a yearly release. I hope they continue to let some of it age and release it a year older each time. Kind of like what Elijah Craig has done. The Boss Hog has some burn to it but that is to be expected with barrel proof whiskies.

And that is coming from a guy that doesn't drink a ton of rye. I am sure there are some rye lovers that will rate it much higher and it is definitely deserving
Have you tried one of  the WhistlePig ryes?
Add it to your Whiskey Library and start reviewing bourbons now!