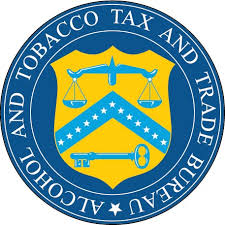 Has the TTB Failed Us?
The label on a bottle of whiskey is extremely important to consumers. There's a vast amount of information that can be gleaned from each label. What happens when we can no longer trust the information presented to us? The consumer is in trouble. If you're not familiar, the Alcohol Tobacco Tax and Trade Bureau (TTB) is responsible for regulating and approving whiskey labels. They've also been the center of whiskey label controversies over the past few years. Without diving too deep in to the controversy, multiple distilleries and Non-Distiller Producers (NDP's) have been called out for mislabeling their products. Their response was "the labels were approved by the TTB" or some other form of a hand washing rebuttal.

Who is the TTB? Read their mission statement below to get a better idea.
Our mission is to collect Federal excise taxes on alcohol, tobacco, firearms, and ammunition and to assure compliance with Federal tobacco permitting and alcohol permitting, labeling, and marketing requirements to protect consumers.
Based on their own mission statement and their recent behavior it's fair to say that they've put tax collecting in front of compliance. Since 2008 the TTB performs an annual self-audit to determine whether or not they've done a good job. In their own words:
TL;DR: They buy bottles of liquor, wine and beer at a store and test them against their own regulations.
Our Bureau's mission to protect the public includes ensuring that labels on alcohol beverages contain adequate descriptive information and are not likely to mislead consumers. Established in 2008, TTB's Alcohol Beverage Sampling Program (ABSP) is a random survey of products in the marketplace to evaluate our success in meeting this mission and to determine where compliance issues exist.

Each year we conduct the ABSP by purchasing products from the marketplace and bringing them to our offices for label assessments to determine if products are in compliance with our labeling regulations. Following the label assessments, we send the products to our laboratories to undergo a series of analyses to determine compliance with certain information displayed on the product labels.
Here are the results from the past 4 sampling's: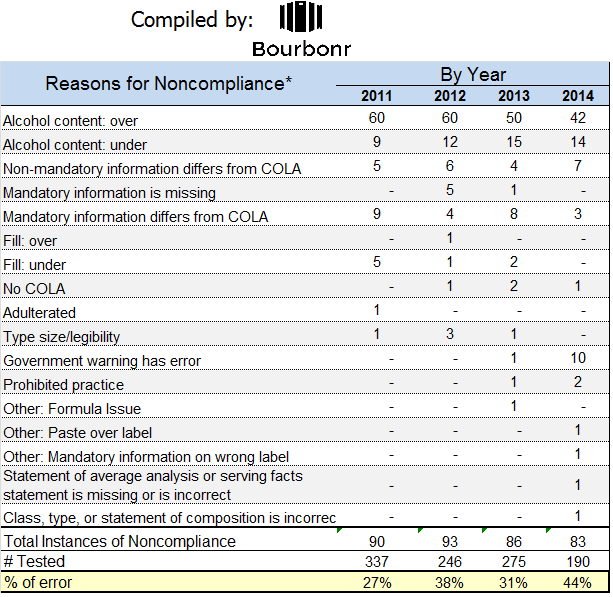 The biggest offender is alcohol content. That means almost a quarter of the bottles tested over the last 4 years didn't have the correct proof on the label. Granted, the rules are pretty strict and require the label proof to be within 0.15% of the contents. But, isn't that was we expect? Shouldn't the proof on the label match the proof in the bottle? This chart doesn't provide the whole story. Not every offense carries the same weight. I don't really care if a label is .30% over proof but I do care if mandatory information has been left off of a label. One of the biggest problems has been labels that don't disclaim the state the whiskey was distilled in. Most of these mistake were probably overlooked by the TTB during approval and this survey.
Ultimately, there's fault on both sides. The TTB forces producers to sign off on their label "under penalty of perjury" that the information on their label is correct and meets all applicable laws. Then, you ask the producer why their label isn't up to code and they claim "the TTB approved this". No one wants to take responsibility. It wasn't until bourbon enthusiast banned together that the TTB started to take action. Wade Woodard has been a leader on multiple bourbon boards and forums (check out his list of non compliant labels) urging the TTB to enforce its own rules. Is his words "It's easy to cheat on your taxes & some get away it, but others get audited and caught." 
Lets revisit the original question. Can we trust whiskey labels? It's a hard question to answer but I'd give a hesitant "yes". The TTB approves thousands of labels every year and while mistakes or oversights will happen the TTB appears to be making changes for the better. In the meantime Bourbonr will keep you informed about as many whiskey label mistakes as possible. The information is out there. We'd just rather see it presented correctly on the label.
 Two items I'd like strictly enforced by the TTB:
– Age statement if  the Whiskey is less than 4 years old. (27 CFR 5.40(a) )
– "Distilled in" – with the state of distillation (TTB 5.36(d))