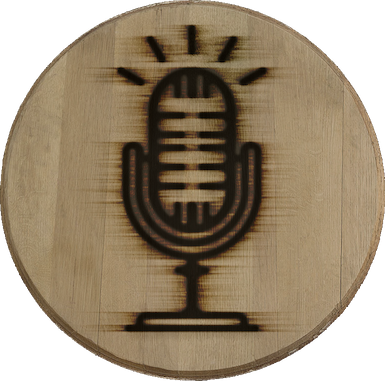 If you follow Bourbonr on twitter you've probably heard me talk about Bourbon Pursuit. Behind Bourbon Pursuit is Kenny and Ryan and they've quickly become one of my favorite podcasts to listen to. Actually, they're one of  only two bourbon podcast (here's the other) I listen to religiously. Every episode is full of great bourbon info. Plus, they're around 30 minutes a piece so I can knock out an episode on my daily commute. I was one of the first few interviews so I decided to reverse the mic and interview Ryan and Kenny.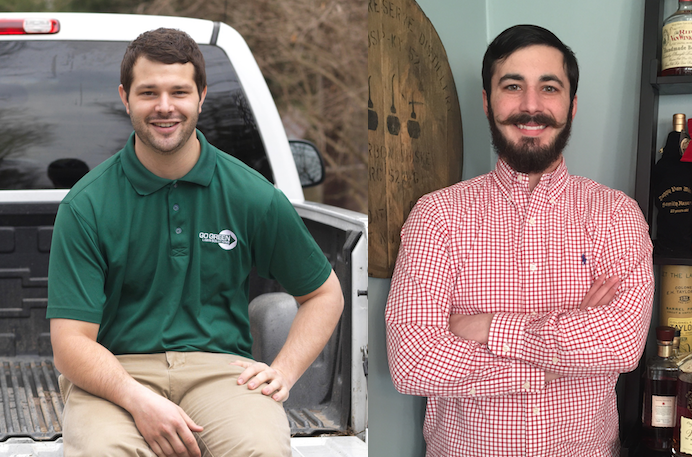 Bourbon Pursuit Interview
– What's your bourbon background?
Kenny: I got into bourbon back in the early days of college after being recruited to a fraternity known for being the biggest bourbon drinkers on UK's campus. I was a typical beer drinker, but after a semester it was bourbon and coke every party night. Back then, it was handles of Kentucky Tavern and Very Old Barton. One of the bars on campus began serving bourbon and coke in pitchers for $8 and we took that inspiration to fill bourbon and coke Gatorade jugs for parties (2 2Liters of Diet for every 1.75 in case you are wondering). After college, Old Forrester became a staple in my post-grad home and I splurged on 4 Roses Small Batch every once in a while. It wasn't until 2011 when the itch hit to start buying more high-end and rare release bourbons happened. It was about this time when the thirst for information began, beyond what can be read on the label. Since then, I've been known to camp out for Pappy releases and troll liquor stores on a weekly basis waiting for those rare ones to hit the shelf. I only wish the bourbon craze would have waited another 2-3 years because I finally have the money to splurge on rare bourbon releases.
Ryan: I grew up in Bardstown, KY, which most people know as the bourbon capital of the world. I have been surrounded by the bourbon industry and seen it grow and flourish throughout his life. Many of his closest friends and relatives work at the local distilleries such as Heaven Hill, Willett, and Jim Beam. All these close ties keep him in the loop of the latest bourbon news and access to some insider trade secrets. Bourbon used to be a means of wild partying, but has now grown into a deep appreciation for positive impact for his state and hometown.
– How did you get started or what got you interested in bourbon?
Kenny: I guess you could say my fraternity was the main reason I started drinking bourbon in the first place, but it went to a whole new level since I get enthralled. I tend to really geek out on stuff. I get obsessed with tech gadgets and at one point I was even big into Halloween decorations. I've been drinking bourbon for over a decade now and it wasn't until the past 3-4 years that I "really" got into it. I continued to drink bourbon and moved from mixing with coke to drinking it on the rocks while the majority of my friends started switching to wine. At that point, I was known as "the bourbon guy". I continued to meet more people in Louisville with the same obsession and that only further developed my habit. Now, all these friends that switched over to wine are making their way back and I get to field their daily texts asking if a particular bourbon is worth getting.
Ryan:I started drinking bourbon in high school, probably shouldn't say that! My first experience was I had Evan Williams and coke and thought it tasted like candy.  I was hooked and kept on through college with the normal progression of mixing with soft drinks, then on the rocks, and now neat and barrel proof.  It's funny I think back in college which was 2003-2008 and my dad would receive Elijah Craig 18, 20, 23 as gifts and we would drink them with coke.  We had no idea what we had back then. Haha
– Whose idea was the podcast?
Kenny: Ryan bought a microphone and was beginning to record podcasts about turf management. It's his day job and he's a master at his trade. Since he had this equipment, he wanted to put it to more use. After conversing with a friend of his, he suggested Ryan should use some of his Bardstown connections to start a bourbon related podcast. Ryan wanted a partner along this journey and reached out to me because he knew I was still a big bourbon guy. I told Ryan that we need an angle that makes our show interesting. We listened to a few different podcasts that were out there and decided we didn't want to do anything that had been done already. Besides, who are we? We're nobodies in the bourbon world and don't have an ounce of credibility so why would anyone listen to us? One of my former managers runs a successful tech podcast called The Cloudcast. It's a very similar format to Bourbon Pursuit, where the hosts interview guests within the industry to learn about their story or products. We used this format as an inspiration to begin the podcast so we can get spread information and knowledge from people in the industry.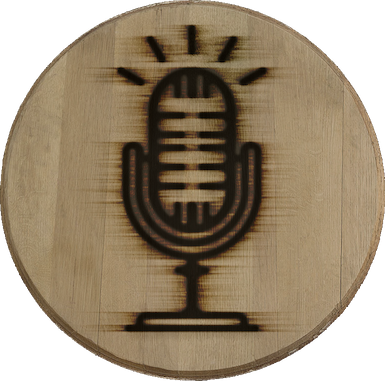 – Tell me about some of the more memorable interviews or answers in interviews?
Kenny: I have two favorite episodes. First, is learning about bourbon through lawsuits with Brian Harra of Sipp'n Corn (Bourbonr note: This is my favorite interview. Give it a listen) because the amount of knowledge bombs being dropped were enough to make me feel like I was cramming for a mid-term exam. Second is a recent episode where we talked with @BourbonSeason and discussed at length the secondary market, which is a hot hot topic. There two memorable ones that stand out for me. When we interviewed Jim Rutledge at Four Roses we gave him the run-down that our episodes are typically 30 minutes in length and after the first two questions I think we were at the 45 minute mark. Ryan and I looked at each other, didn't say a word, but we knew that we need to keep going to capture every moment Jim would give us. That man can talk for hours! We interviewed Sean Higgins of Mint Julep Tours TWICE! The first time we had major audio issues and the quality was so bad that we didn't want to release so we asked to come in for a re-do. While we were there, the interview was interrupted in the middle because a drunk guy came into the building asking for a refund on a tour he never took. It was fun to watch big Sean escort the guy from the building.
Ryan:  Marianne Barnes, I think they are doing something really cool at the Old Taylor Distillery and she is going to be a rock star.  Jim Rutledge.  If you can get through the rambling, the story of how four roses came back to the US is very cool and interesting. Reid Mitenbuler was a very interesting and cool interview about some history of bourbon that most people do not know.
– Who would you like to interview but haven't gotten a chance yet?
Kenny: The list is pretty extensive. We've got a whole heap of folks we want to interview, but making time sync up or finding time in their calendar has been tough. Of course, we want to get all the major players like Fred Noe, Rob Samuels, and Jimmy & Eddie Russell. But there are many others on our wish list such as folks from Vendome and Independent Stave. Getting them to agree to be on the podcast almost gets us full circle. We could always interview some farmers about the particular corn harvested for bourbon, but we need to see if there is a story to tell there.
Ryan: Drew Kulsveen from Willett.  He is a friend of mine and what they are doing at Willett is truly amazing.  He is super talented and they are now distilling their own product.  I have had some of the younger whiskeys and they are great now.  I am excited for them as they mature.
There are so many but I really want to interview Max Shapira from Heaven Hill.  Being from Bardstown, HH is an amazing company that has grown to the biggest family-owned distillery.  Beam, Makers, and Bartons sold out to bigger parent companies.  which I can understand but I respect and love how HH has kept it a family owned distillery.
Donald Blincoe – Buzick Construction has been building rickhouses for over 80 years.  They are the only outfit I know that builds them. I have been close friends with the Buzick family my whole life.  Donald knows everyone in the bourbon industry and has many cool stories that our audience would appreciate.
– What's your favorite bourbon for daily drinking and the favorite special occasion bourbon?
Kenny: Thankfully, I stocked up on Weller 12 before the big rush. About 3 years ago, I traveled to a city that seemed to have an abundance of it sitting on the shelves and I took advantage. I've got enough Weller 12 Year to last me another 3-5 years. But I always go back and forth between Weller 12 and a few barrel proof bourbons such as EH Taylor Barrel Proof, Elijah Craig Barrel Proof and Willett Family Estate to keep it interesting.
As for the special occasion bourbon, it's hard to say. I've got a few gems open such as my 2014 Pappy 20, 2014 George T. Stagg, and 2011 Old Rip squat bottle that I save for people when they come over. I've only got 1 semi-unicorn and that's my 2007 Pappy 23 and I haven't found the right occasion to open that up yet.
Ryan: Favorite Daily Drinking Bourbon:
I will go with what I can easily find. Evan Williams 1783 is the best bourbon for the buck.  $9.99 for a fifth. We've put it in blind tastings vs $75 plus bourbons and it comes in the top every time.  Elijah Craig 12 is also great with a little higher proof than the 1783.  I am pretty loyal to HH since they employ a lot of my friends and family and I think their mash bill is the best. Right now I am loving the Willets 3 year Rye (their own distillate) it is very good for $40.  Weller 12 and Elmer T Lee are also favorites but they are getting more difficult to obtain.
Here are my top Five all time bourbons
1. Parkers #6 Blend of Mashbills
2. Old Grand Dad 1986
3. Cured Oak
4. Willets Estate 9 year barrel 5203 bottled in 2015
5. Elijah Craig 20 year bottled in 2003
—————————————————————————————-
Thanks to Ryan and Kenny of Bourbon Pursuit for doing this interview and keep up the great work. Now, who would you like to see interviewed on the Bourbon Pursuit podcast? Let them know in the comments.