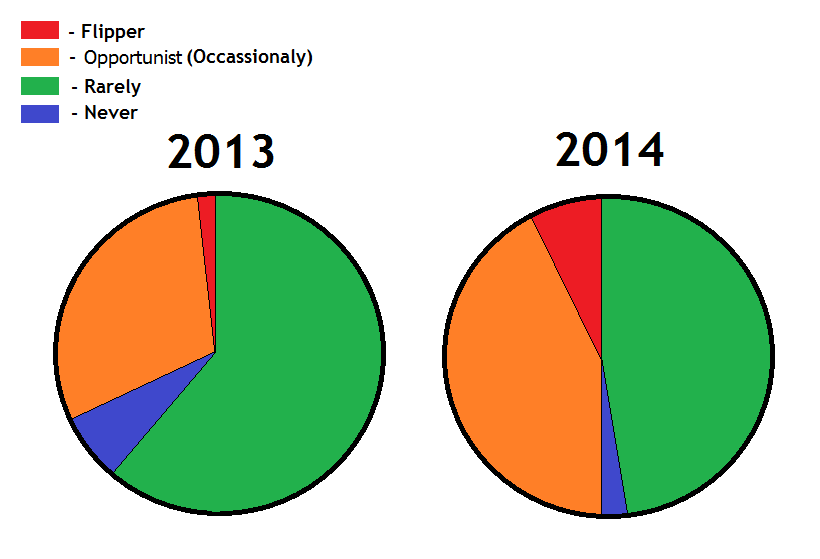 The Bourbon Gray Market
A couple of months ago FiveThirtyEight posted an article about the secondary market in the sneaker industry. Now, I'm no sneakerhead (although I do still have a pair of gray Jordan XI in my closet) but the article was extremely interesting and I couldn't help but draw comparisons from what is going on in the sneaker industry to the current bourbon market. The sneaker industry releases special edition shoes to which people camp out for, riot over and in general go a little too crazy over what is, in my mind, "just a shoe". Sound familiar? Nike (Buffalo Trace) releases special edition Air Jordan's (Pappy) which are by far the most popular and bring the highest secondary prices. However, there are other releases like the Lebron's, Kobe's and KD's (BTAC) that also fetch multiples on MSRP on the secondary market.
Here's how I see the bourbon secondary shifting: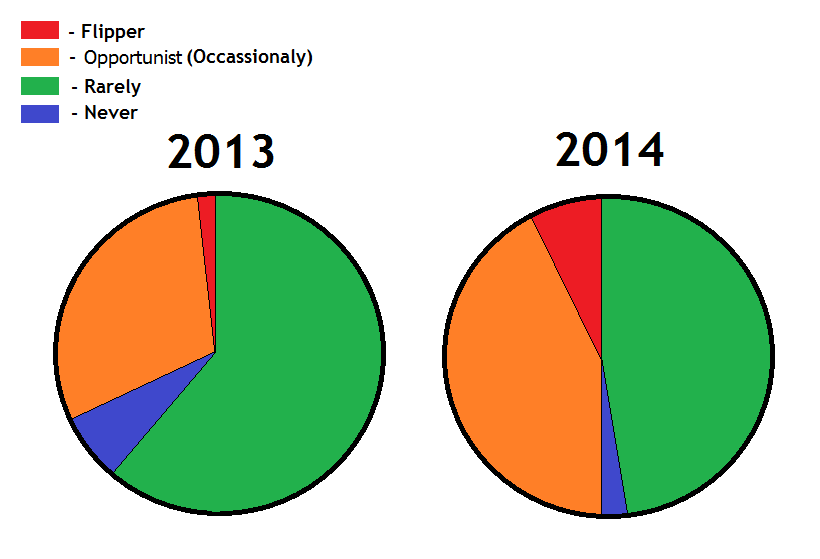 Like it or hate it limited edition bourbons are sold on the secondary market on sites like Bottle-Spot, Facebook groups and Craigslist every day. The mysterious bourbon flipper is the most hated figure in bourbon today. Can't find Pappy? Blame the flipper. Store increased their prices? Blame the flipper. Distilleries increasing prices? Blame the flipper. I think of a flipper as someone that doesn't even drink bourbon and purchases solely for resale. I think this is a very small percentage of the market but increasing. What's also increasing is the bourbon opportunist The guy that is in to bourbon but can fund a year of purchases with the sale of one bottle of Pappy.
The bourbon market doesn't have the advantage of using mass amounts of data since the resale of alcohol is technically illegal (or a gray area?) but there is a new site that started tracking the bourbon secondary. BottleBlueBook uses multiple sources to track the current prices on the bourbon secondary. Basically, they're tied in to a network of traders/sellers that submit the data. This is all done anonymously on the site and help builds the pricing data for each bottle. I had a chance to chat with the sites founder, Dan Donoghue.
What bourbons are currently trending on the bourbon secondary?
Honestly, as far as current trends are concerned it is way too early for us to speak on anything from our data standpoint. All we can say is that the market in general is crazy right now, but I'm pretty sure every bourbon drinker is experiencing that. The demand is skyrocketing and the lines for limited edition bottles are growing larger with every release.  The whiskey industry has done an excellent job marketing and building the popularity of the spirit.
 Do you think distilleries are leaving money on the table by not increasing prices or it a strategic move?
 There are a couple distilleries that are raising their prices, but overall the markup from the distilleries seems to be steady. I'd say right now it's a strategic move, but who knows how long it will last.  I think part of the rise of bourbon and rye is due to longer aged bottling's being significantly cheaper than a bottle of scotch of the same age.
I know retail prices are rising, but I believe that is coming from the retailer.  For instance, in the state of Kentucky at least, the price of a bottle of Old Forester Birthday Bourbon last year was in the ballpark of $45 and this year's release is near $65.  That's almost a 45% increase in 12 months.
What's the most expensive bottle right now? 
The most expensive bottle in our system that we are trying to keep track of is the Pappy Van Winkle 23 Year Decanter Set.  The going rate is around $4,300 and it is still something that can be obtained, although not through retail.
How much of the secondary market is just Pappy Van Winkle bottles?
Everyone thinks the Pappy Van Winkle line is the driving force behind the whiskey secondary market, but it is simply not true. It is the obvious name that everyone knows, but there doesn't seem to be an overwhelming amount of transactions compared to other bottles.
Bourbon's Big Question:
The big question in the bourbon world is "Is Buffalo Trace leaving money on the table and giving up profits to the secondary market?  And if so, why?" The same could be asked about most major distilleries and it seems like several have begun to react. While some have begun to increase prices (Heaven Hill and Willett seem to be watching the secondary market for their pricing) there's still a lot of money let on the table. In a recent interview with the New York Times Mark Brown, the CEO of Buffalo Trace, said this "We've been adamant about not raising our prices to our distributors much beyond the cost of goods and inflation," Mr. Brown said. "The reason for that is very simple. We're in this business for the long term. Just because bourbon is hot right now doesn't change our way of thinking to say let's take advantage of the situation." It's hard to put a price tag on brand loyalty but even as demand slows a lot of Bourbonr's will remember who was price gouging, both retailers and brands, and who treated their customers fairly.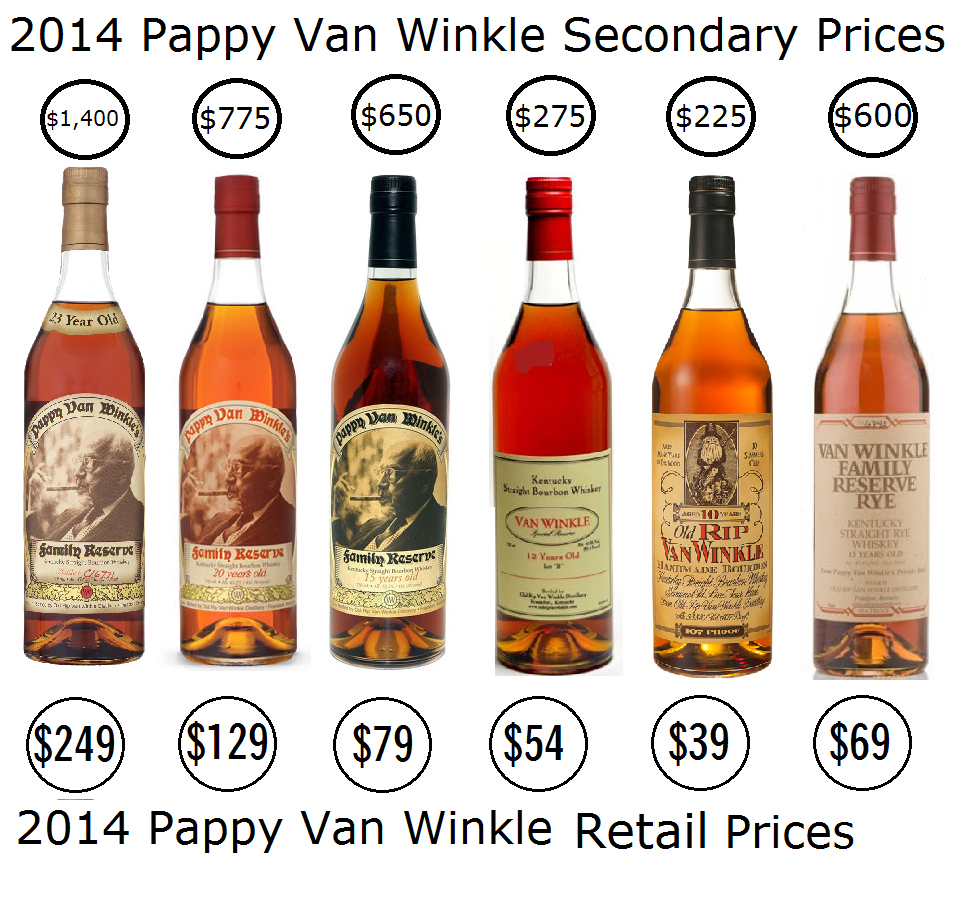 While the bourbon industry doesn't have the luxury of increasing supply like the sneaker industry they could still raise prices to capture some of the profits in the secondary market. Why would they do this? Are distilleries that kind hearted that they just want to produce whiskey and not worry about maximizing the bottom line of the Profit and Loss statement? I highly doubt it. So, what's the motivation? Think about the amount of free marketing and publicity these distilleries receive each fall. Almost every major publication writes some story about Pappy and most include other limited release bourbons.
Bourbon Fix:
Whether we'd like to admit it or not, it feels great to drink something that others couldn't get. When the Wall Street Journal said that Pappy Van Winkle was the bottle that Billionaires couldn't buy it reinforced that feeling even more. Here I am sipping on Pappy 15 while Warren Buffett wishes he could trade places with me. I highly doubt that is the case but there are plenty of people that would love a bottle and can't find it. For those that have drank Old Rip Van Winkle 10 year know that while it is a good bourbon it's simply that just a "good" 10 year old bourbon. Whenever I hear about people paying $200 for this bottle I purchased for $49 it all of the sudden taste a little better. The same could be said for the majority of limited edition bourbons. While most limited editions are quality the psychological effect pricing has is substantial.
Will the Bourbon market anytime soon? These things are almost impossible to predict but I don't see it slowing for at least another 3-5 years. I still question myself from time to time. Would bourbon be as much fun if there was no hunt? Yes, I'd love it if I could still walk in to my local store and grab Pappy 15 in February  but there's a certain level of excitement that comes with hunting elusive bourbons. This includes both new limited releases and dusty bourbons that have been sitting on the shelf for decades waiting for the appreciation of a bourbon enthusiast. For now, I think we need to be ready for the craziness that waits for the bourbon industry every fall.