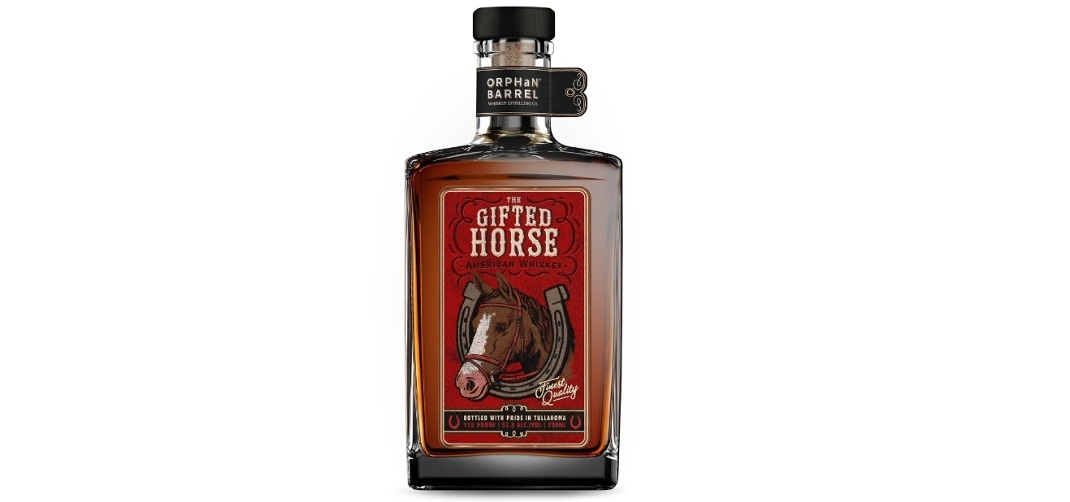 For the unfamiliar, Orphan Barrel is a line of "unique", usually well-aged bourbons from Diageo. The story goes, the world's largest producer of spirits was clearing out an old warehouse and stumbled across some aged stock. These barrels were the foundation of the Orphan Barrel line. There's now six different brands under the Orphan barrel monicker. Several of them have started to release older bottles (i.e.Rhetoric 20 & 21).
Gifted Horse is the sixth brand in the Orphan Barrel line. Here are the details about this release:
The Gifted Horse (115 proof/57.5% ABV) is comprised of 38.5% 17-year-old Kentucky straight bourbon, distilled at the Bernheim Distillery historically located at 17th and Breckinridge in Louisville, Ky., while operated by United Distillers. It also contains 51% four-year-old bourbon and 10.5% four-year-old corn whiskey, both produced at a high-quality distillery in Indiana. Initially, these individual whiskeys were stored at their original distilleries before being moved to Stitzel-Weller, where the mingling error occurred.
Most know that it's pretty common practice to add some older barrels to a younger batch. Older barrels add oak and other more mature notes the batch may be missing. However, if you follow bourbon you also know a story helps sell a bourbon. Apparently, a "mistake" backstory can take a bourbon even farther. I'll withhold my opinion until after the review portion
Orphan Barrel Gifted Horse Reviewed
The nose is sweet, oak and cherry. It's pretty nice. There is some medicinal like cherry and leathery notes. The first sip…. I'm pretty sure someone mistakenly dropped cherry cough drops in Rhetoric. There's no mingling of flavors. It's like a middle school dance with sweet, bright cherry notes on one side while the oak and leathery taste of an older bourbon is on the other. Never to meet in the middle. Even after I let the bottle for a couple weeks it still just tastes unbalanced. It's improved a little and isn't undrinkable but it's not a pour I enjoy.
I paid $70 for this bottle and as I stated in my last post we can't just let bad bourbon slide. This isn't good. I can't recommend that you buy it. While others have hated just about everything Diageo has put out I'm actually a fan several Orphan Barrel brands. You can read my post defending the Orphan Barrel. It's probably a good thing that I wrote that before tasting Gifted Horse.
While Diageo continues to pump out tens of thousands of bottles under the Orphan line I've been told they have even more sitting around. Expect to see several NDP's popping up with 15-year+ releases. Or, even more new brands in the Orphan line.