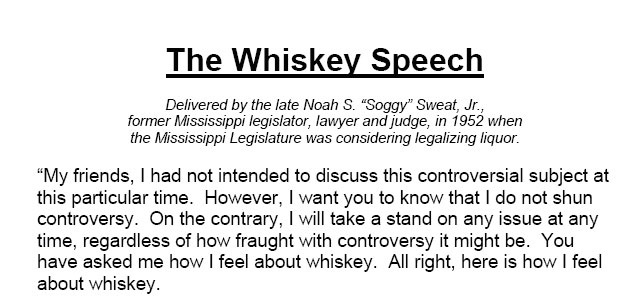 Happy Friday Bourbonr's!
This isn't an in-depth, educational post. A friend of mine recently reminded me of the great orator Judge Noah S. "Soggy" Sweat and his "Whiskey Speech" so I decided to share it with you. This is a post to listen to and enjoy on a Friday afternoon while drinking whiskey. This is how I feel about whiskey:
Here is some background information:
The speech was delivered on the floor of the MS state Legislature in the 1950's by then state Representative Judge Noah S. "Soggy" Sweat and re-read recently on the floor of that same body. A great example of political doublespeak, Soggy wrote it to address the controversial topic of whiskey– at the time, banned in that state, yet plentiful. Whether you are a lover of history, the grand tradition of whiskey, or just in need of a laugh, enjoy The Whiskey Speech.