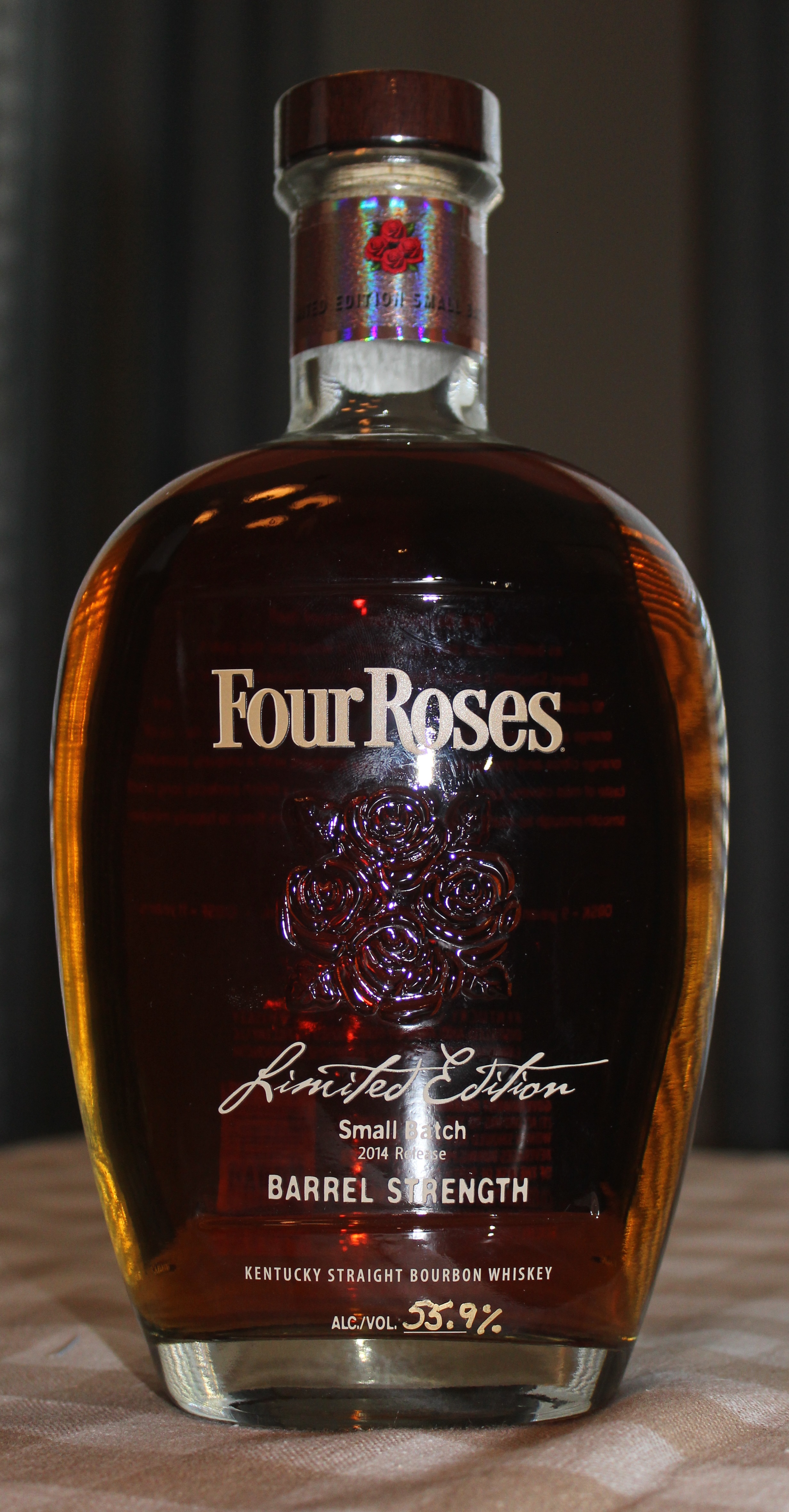 Bourbon Review: 2014 Four Roses Small Batch LE
Today, we take a break from all of the BTAC and Pappy talk and review another fall release. Four Roses distillery has become known for their excellent bi-annual limited editions and each fall Four Roses releases their small batch limited edition.  The 2014 Four Roses Small Batch Limited Edition is a blend of 4 Four Roses mash bills: OBSK 9 year, OBSV 13 year, OESV12 year and OBSF 11 year. This barrel proof release comes in at 111.8.
The 2014 comes with a pretty significant drop in age and a slight increase in proof compared to the 2013 which was a blend of OBSV 18 year, OBSK 13 year and OESK 13 year and only 103.2 proof. The 2013 was name "American Whiskey of the Year" by Whiskey Advocate so there are some large shoes to fill.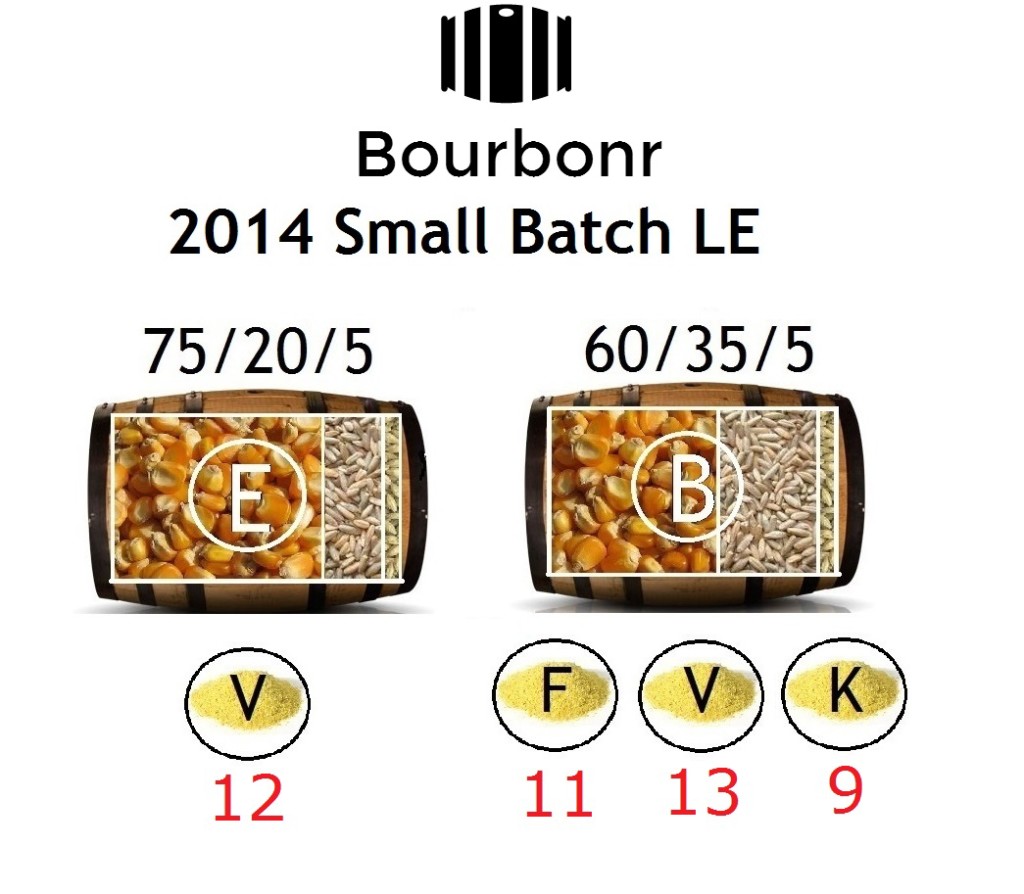 From Four Roses
Four Roses Distillery will release the newest in its series of limited-quantity special bottlings with the 2014 Limited Edition Small Batch Bourbon, featuring four of the distillery's ten Bourbon recipes from barrels ranging in age from 9 to 13 years.

Four Roses is the only distillery that combines two mashbills with five proprietary yeast strains to produce ten distinct Bourbons, each with its own unique characteristics. These Bourbons can be mingled in nearly infinite combinations to create a wide range of flavor profiles.

Master Distiller Jim Rutledge selected four of the ten Bourbons to create the 2014 Limited Edition Small Batch Bourbon: 13-year-old Bourbon from Four Roses' OBSV recipe, 12-year-old OESV, 11-year-old OBSF and 9-year-old OBSK.

"It's exciting and challenging to select the Bourbons that will be used in various percentages for a special and different Limited Edition Small Batch," Rutledge said.

The 2014 Limited Edition Small Batch, bottled at barrel strength, is both bold and refreshing, with aromas of light orange zest, glazed maple and fresh spearmint. The flavor profile includes orange citrus and mellow hints of honey, which are expertly mingled with a palate of mild cloves and cool mint for a long, bold and smooth finish.

"We've only scratched the surface with what we can do with our ten Bourbon recipes relative to varying flavor profiles for special releases," said Rutledge.
Four Roses Limited Edition Small Batch Review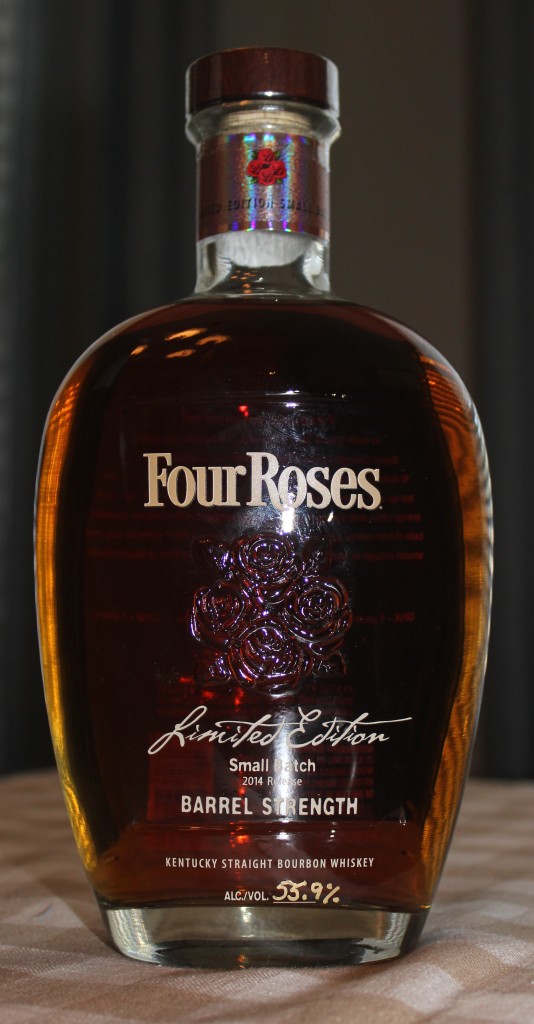 Nose: Fruity like peaches or spiced apples. There are some caramel notes but its there's more of a dry tobacco overtone.
Taste: The initial taste is mildly sweet with a charred note. It's also oaky with orange peel. Sweet spearmint. The taste is balanced but leans toward the dry and spicy side.
Finish: The finish is spice but not overly hot.
Overall: This is an excellent bourbon and what we've come to expect from Four Roses. If I had a complaint it would be that it leans to the fruity/spicier notes instead of vanilla/caramel. This is a personal preference so not something that I would rate less because of.
Comparison to the 2013 Four Roses Small Batch Limited Edition 125
The nose on the 2013 is much more rounded. There's a lot more caramel and vanilla which I enjoy. These notes carry over to the taste as well. After tasting the 2013 the 2014 seems to have a much greater burn or bite. This probably isn't because of the higher proof but from the fact that 2013  has some 18 year old bourbon in its batch.
These are two great bourbons so comparing the two is like trying to compare Kobe and Lebron (obviously both are behind MJ). There will always be people that claim  Lebron doesn't have the killer instinct like Kobe, no matter how many rings Lebron wins. In the end it probably comes down to personal preference and in my opinion the 2013 is better than the 2014. But, the 2013 is one of the better bourbons I've had in the last 3-5 years. If you're lucky enough to get a bottle you won't be disapointed.