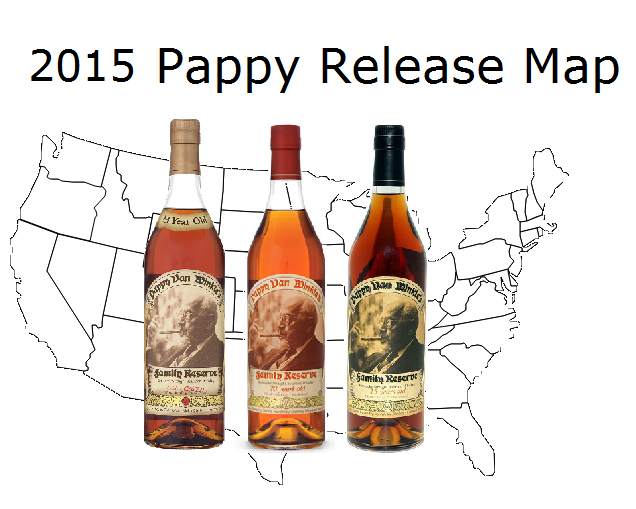 *Please Read:* Each state is highlighted once one bottle is reported. Generally, that means that store, and a lot of times that city, is already sold out. This map isn't an official release tracker from Buffalo Trace but a network of bourbon drinkers looking to help each other. Stores are dealing with smaller allocations and greatly increased demand. Please be understanding of this fact. Also, I'm not a retailer. I don't have a list to buy Pappy nor do I know where you can buy online at retail. If I did I'd buy it all myself 🙂 Happy Hunting! 
It's that time of year again! This is the 3rd annual Pappy Van Winkle Release Map. Here's the drill. I'll update each state when Van Winkle is released in that state. Remember, distribution can be tricky sometimes and just because it has released in part of the state doesn't mean you've missed out. The odds aren't in our favor, but that doesn't stop us from trying. Hopefully, the Bourbonr community will help you find a bottle.
No matterIf you need more help check out my post "How to Hunt Bourbon" Happy Hunting!

2015 Pappy Van Winkle Release Map
Also, Bourbonr commenter, Andy, provided some sound hunting advice:
1- find the stores that release theirs in a lottery drawing and hope to get lucky

2- find a store that is going to do a first-come-first-served release and be prepared to stand in line hours before they open
3- contact friends or family that live in states that haven't released yet and see if they can help you hunt down a bottle as well
4- pay the dreaded secondary market prices on Craigslist or Bottlespot, etc.
Don't want to worry about hunting a bottle? Find a bottle at Bottle-Spot
If you find a bottle please shoot me an email at Blake @ Bourbonr.com. I welcome any tips about state releases as well!
Kentucky to release Pappy November 12th. Party Source has announced they will open at 8 AM on Thursday for Pappy. There's probably already people in line.
10/22 – Virginia jumps the gun and becomes the first to release Pappy Van Winkle in 2015
10/27 – Pappy Van Winkle (technically just VW 10 & 12) in Wisconsin. Cheese heads rejoice!
11/2 – Pappy is released into the ABC system of North Carolina
11/3 – Pappy is reported in New York but mostly at highly inflated prices.
11/4 – Pappy Van Winkle reported in Washington DC and Illinois (Binny's in Chicago to preferred customers)
11/5 – Pappy snakes through the Northeast releasing in Rhode Island and New Hampshire (lottery)
11/6 – Georgia receives its first bottles of Pappy (at retail no less). This is a consolation prize for last weeks FL/GA thrashing :). Pappy Van Winkle releases in the Hoosier  state (Indiana). Busy day for Pappy releasing in Maryland as well
11/9 – Tennesee (Nashville) is now serving Pappy. Ohio also received Pappy over the weekend but it sounds like it's primarily in restaurants and bars. Alabama releases Pappy if you brought your sleeping bag. Roll Tide!
11/10 – West Virginia receives its allocation of Pappy today. Pappy Van Winkle in Arkansas
11/11 – Pappy comes home to Kentucky by jumping the Party Source gun and releasing (in Shelbyville).
11/12 – New Mexico gets Pappy Van Winkle
11/16 – Pappy Van Winkle is in Mississippi, Arizona & Iowa. Pappy Van Winkle is now in South Carolina. Gamecock fans need as much bourbon as they can get their hands on this year 🙂
11/17 – New Jersey stores see their first bottles of Pappy Van Winkle. Pappy Van Winkle in Massachusetts (so far only by lottery) and now Louisianna.
11/18 – Pappy Van Winkle in Minnesota and North Dakota
11/19 – Pappy releases in Colorado today. Now in Missouri as well
11/20 – Pappy in Montana
11/23 – Pappy Van Winkle hits Kansas
Thanksgiving weekend – Texas, Michigan, Deleware and Maine
12/4 – Connecticut gets Pappy
12/7 – Pennsylvania announces their Pappy Van Winkle Lottery
12/8 – Pappy Van Winkle in Washing and South Dakota.
12/9 – Oregon receives its allocation of Pappy Van Winkle
12/11 – Pappy Van Winkle hits Florida and California. Most likely rounding out 2015 for Pappy. Nevada is still a possibility
12/16 – Idaho gets Pappy! If you were one of the lucky lottery winners
12/29 – Utah releases their Pappy Van Winkle