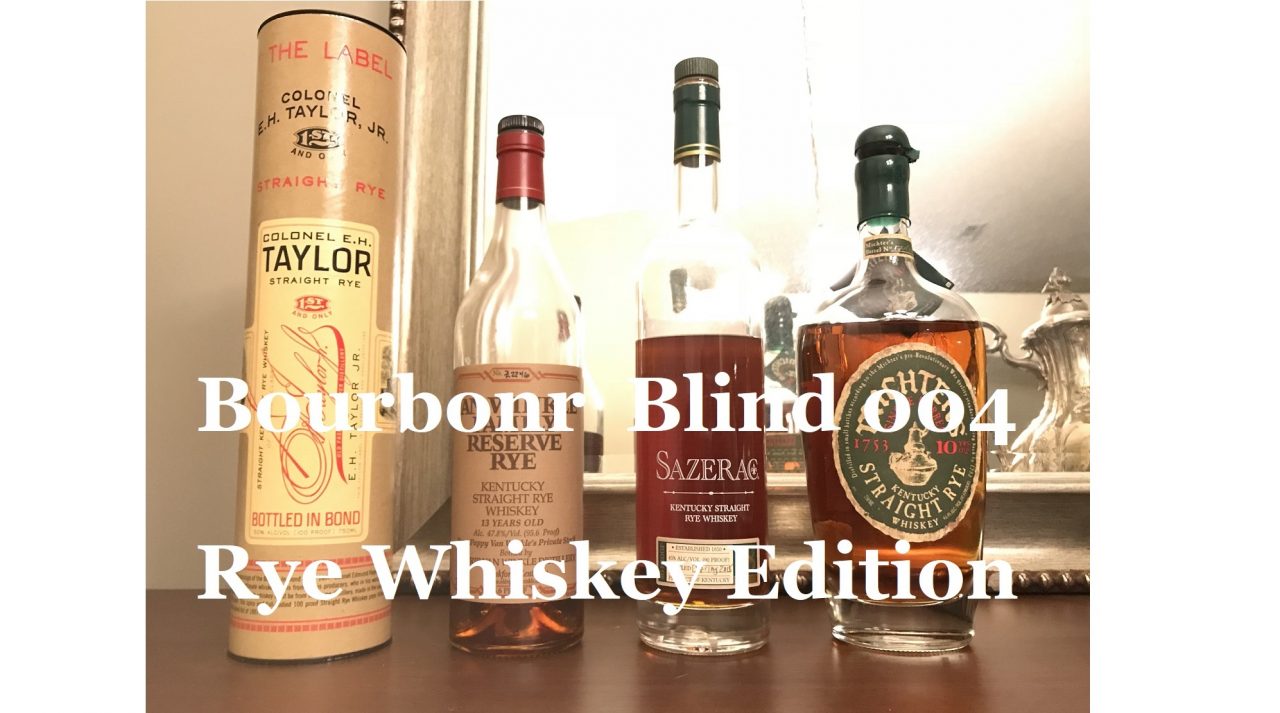 Ready to see some of the most famous rye whiskeys go head to head in a blind tasting? This month I'm joined by spirits writer Jonah Flicker, Head bartender at Lizardville in Ohio (And Cleveland Bourbon Club member) Crystal Bics, Brian Haara from Sipp'n Corn and Ron Bourbondy.
January's blind tasting was all rye whiskey. There are some great rye whiskeys available today. There are also some expensive rye whiskeys. I tried to break this tasting down into a few parts. I wanted there to be a similarity in the proof. All of these whiskeys are between 90-110 proof. Pikesville being the highest at 110. There is also a great disparity in price. I included a bottle of Van Winkle Family Reserve rye which routinely sells for more than $1,000. I also included Jim Beam Rye which sells for around $20 and is available just about everywhere. Time to see if there's a correlation between price and taste.
Here's the format. Each episode there are 4-5 tasters with 5-10 whiskeys. Each taster is sent samples and submits their reviews and ratings before the live reveal. Every bottle in the blind tastings has been purchased by me. No outside bottles or media samples will be selected. I try to purchase every bottle at retail but, with today's bourbon market, have to rely on fellow Bourbonr's to source certain bottles.
Each taster is asked to evaluate each whiskey based on the following scale:
0-60 – Terrible. Bottles should be destroyed
61-70 – Bad. Flavor is off as a whole but shows a few redeeming notes
71-80 – Decent. Could drink in a pinch but probably more of a mixer
81-85 – Good. I want a bottle on my shelf as a daily drinker
86-90 –  Really Good. Everyone should buy a bottle
91-95 – Great. This is phenomenal I would be willing to spend whatever it takes to get a bottle
96-100 – Perfect. This is everything you want in a whiskey and it has no flaws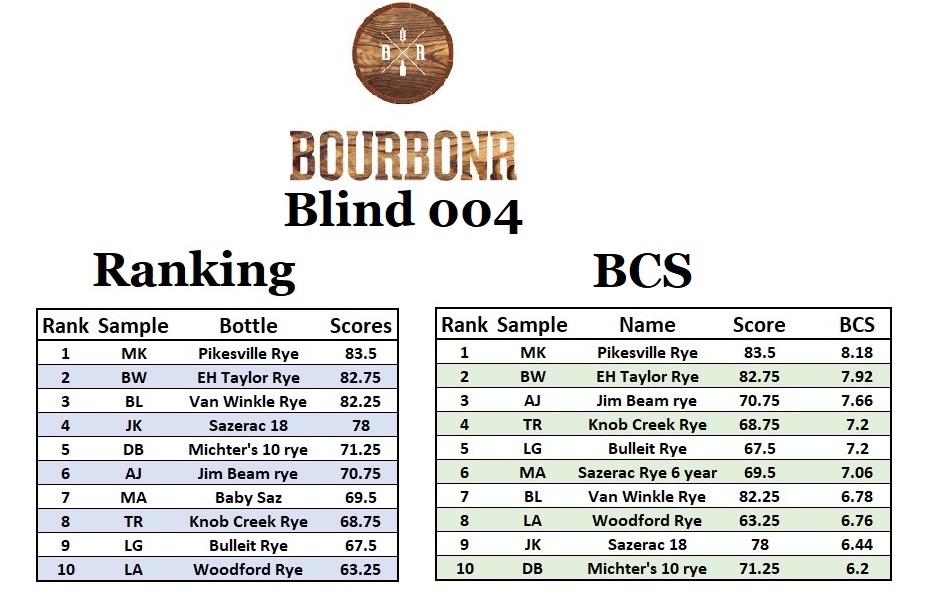 With this tasting I'm instituiting the Bourbonr Cumulative Scoring (BCS) system. Thank you to college football for making this acronym available! The BCS weights out a whiskey's score in the blind tasting, availability and market price. This provides a truer value for the whiskey. If a whiskey ranks high but isn't available, or costs $500, it scores lower. If something sucks but is cheap it will still rank fairly low.
What's interesting about Bourbonr Blind 004 is the winner. Pikesville is $50 and availble in most states. It beat out some of the most sought after whiskies around. I still love Van Winkle Family Reserve rye. I will continue to call it one of my favorites. I believe that aged whiskies are hard to taste blind. The notes that come through are appreciated when you know the whiskey had been in a barrel for 18 years.
Here are the full tasting notes and rankings. What surprised you most about this blind tasting?