By now most Bourbonr's are familiar with the Jefferson's brand. You probably know them for their Small Batch or Ocean bourbon. Or, if you were lucky enough, their Jefferson's Presidential Select bourbon. The man behind the brand is Trey Zoeller. Trey is a great guy I got a chance to chat with him about Jefferson's new distillery and some other questions I've had for a while.
I know your family has a long history in the bourbon industry (his father is a bourbon Historian and 8th generation grandmother was one of the women in Fred Minnick's "Whiskey Women"). Tell me how you got into the business.
-There was a lot of bourbon around to choose from, I found a bourbon that I thought was outstanding and had a lot of age on it. At the time there was very little bourbon that had a lot of age and a similar taste profile, I thought it was worthy of a bottling.
You're currently distilling whiskey. How's that going?
– Our distillery is up and running, and we're laying down around 1,200 barrels a year of our bourbon. On top of that, we'll purchase another 7,000 barrels of new fill. The new fill barrels are contracted to our specifications. While our bourbon is aging nicely, we probably have a couple more years until it makes it into a bottle. Most of our brands are eight years or older, and we don't have any plans to change that.
In Bourbon Empire, you said you chose the name Jeffersons because it was recognizable and you didn't have a marketing budget. Is that true?
The bourbon was complex and sophisticated, and I thought that was a fitting name. Sam Houston was the same story.
Jeffersons likes to experiment. Is that part of the long term plan?
– We plan to continue experimenting. We're not trying to cheat the process. Bourbon takes time. We're just trying to craft something unique. We recently received 250 of Bordeaux cask and will start to fill them with bourbon.
Are there more aged stocks waiting?
– We are releasing a 20 yo bourbon at the end of the year. Unfortunately, we had to sign an NDA so I can't give the distillery we sourced from but I can tell you it's a Kentucky bourbon.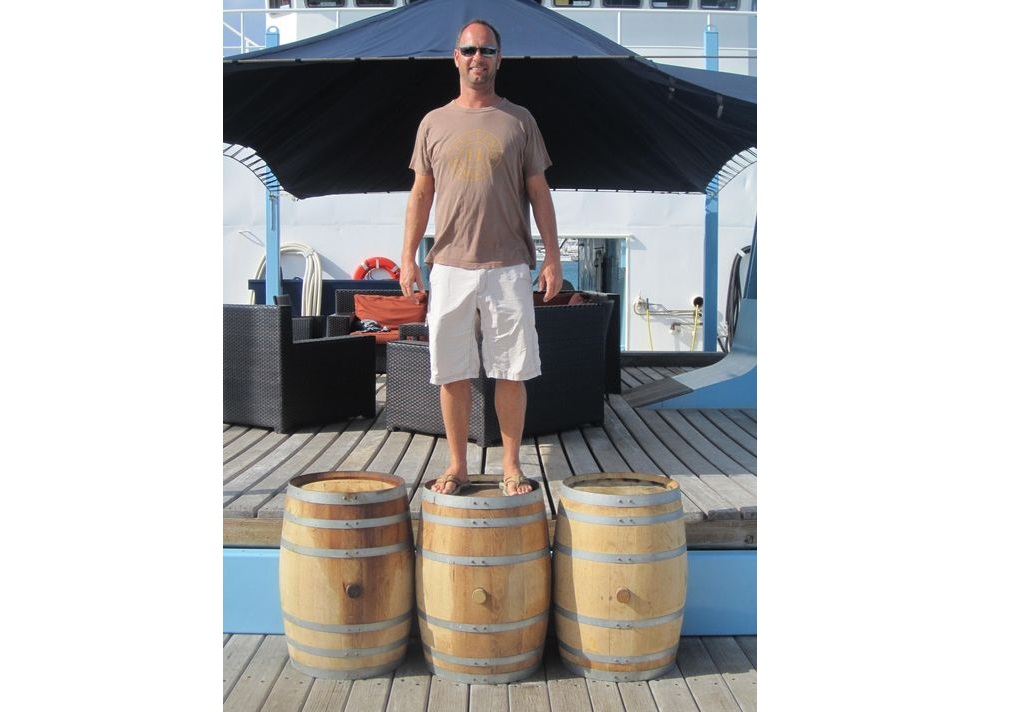 How are the ten-year rye stocks? 
– Currently, we don't have a lot of rye. There's nothing old enough to put into a bottle or have a brand. We do have our own rye aging but it is only two years old.
Was the Jefferson's Presidential Select 18 all Stitzel-Weller?
– There was some rye bourbon added in later batches that went in the 18. The later batches included 20-year-old  Stitzel-Weller and rye bourbon. We decided to blend with the other bourbon because it was getting too woody. The later batches were still 78-80% Stitzel-Weller, but it was a four-grain bourbon. The JPS 17 was completely Stitzel-Weller and the 17-years-old.
Do you remember which batch the four grain started?
I'm not really sure. We were working to create the best tasting product and people weren't as interested in those kinds of details back then. It's funny how things have changed so much in a few years. The JPS 17 & 18 wasn't an easy sell originally. I remember sitting at the first Whiskey Fest with Julian Van Winkle and you could buy cases of either of our brand without a problem.
Review: Jefferson's Reserve Groth Cask Finish
I was unsure of this bottle. It comes at a pretty high price point and I've found most wine finished barrels to be too "winey" or too sweet. I opened this one up and to my surprise, the nose had a nice balance. It frutity and woody. I noted dried apricots and almonds. The taste was even better. There was more dried fruity, brown sugar but enough dry/leathery notes to balance the taste. I've taken this bottle to several tastings and haven't heard a bad review from anyone. I would suggest buying a bottle if you get a chance. One of my favorite retailer (Broudy's) has a private barrel that was the first barrel ever released.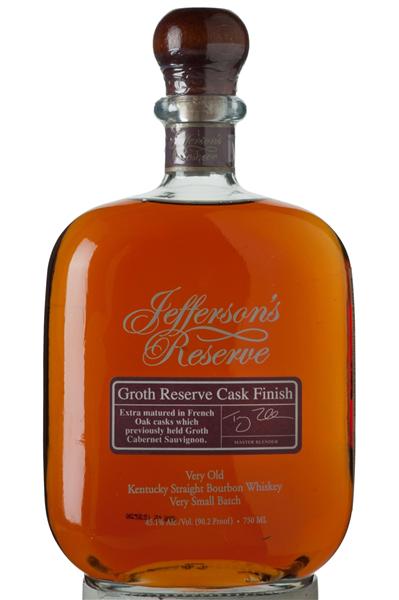 I would suggest buying a bottle if you get a chance. It's a special occasion bourbon. One of my favorite retailer (Broudy's) has a private barrel that was the first barrel ever released.