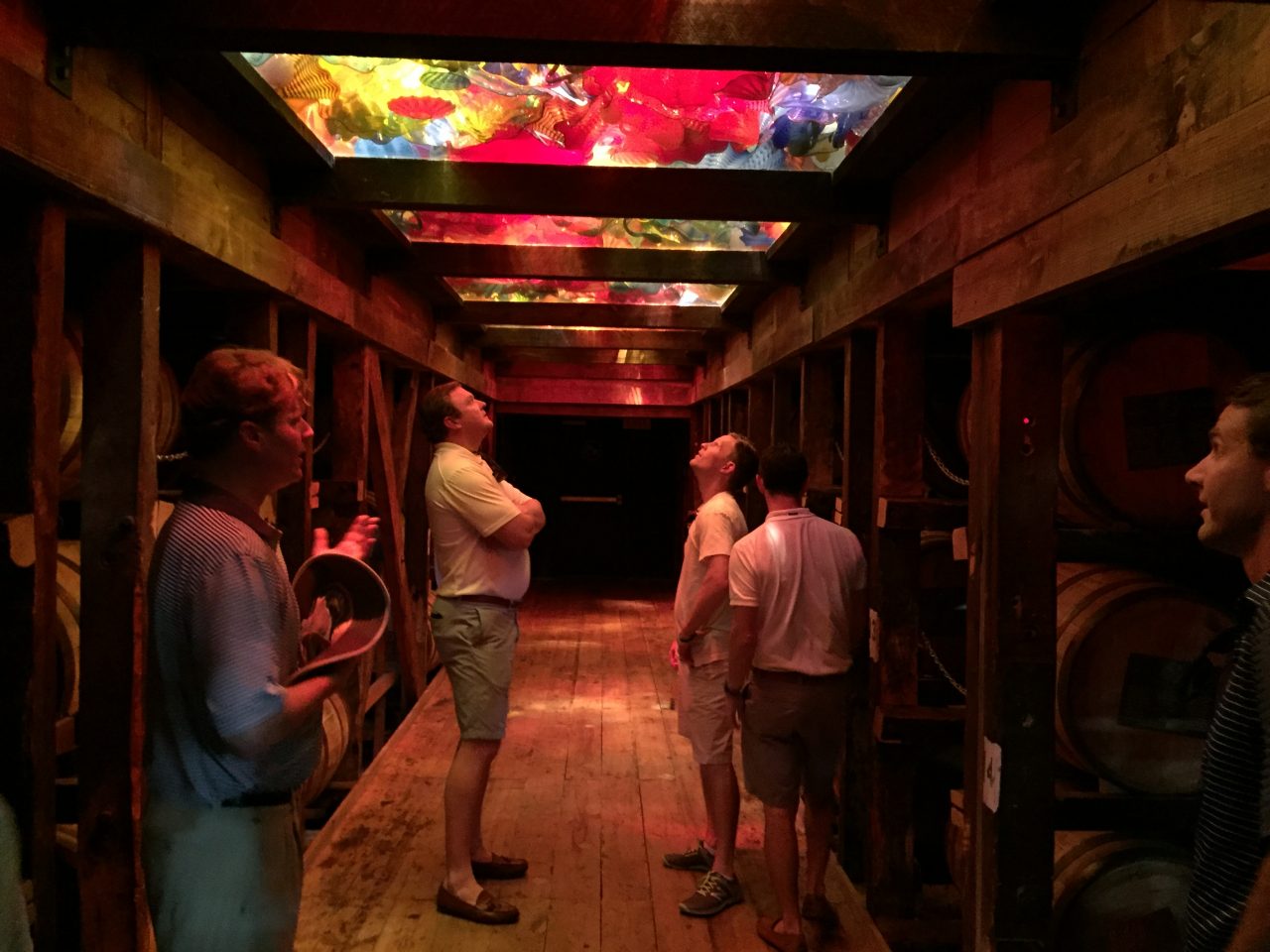 It's hard to find a distillery more picturesque than Maker's Mark. They've also worked with a lot of artists to capture the beauty of Star Hill. I always thought blown glass was a strange addition to a distillery. That was until I saw it in person. I changed my mind and thought it was a cool addition. This new installment sounds impressive.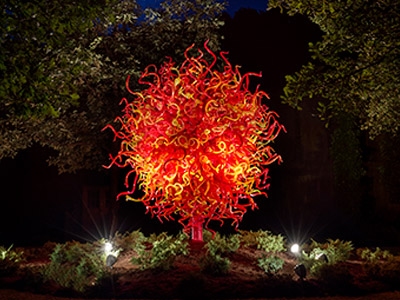 (Loretto, Ky.) June 29, 2017 – Two American icons are coming together once again to create an experience that captures the imagination and dazzles the senses. Maker's Mark®, the pioneer of premium bourbon, is proud to celebrate the work of world-renowned artist Dale Chihuly with the unveiling of Chihuly at Maker's.
Inspired by the distillery's light-filled Burke House Welcome Center and surrounding lush campus grounds, Chihuly at Maker's is a temporary, site-specific exhibition and the second installation commissioned for Maker's Mark by Chihuly. His first celebrated permanent installation, The Spirit of the Maker, was unveiled in 2014 as a tribute to Maker's tradition of bourbon making in Kentucky.
"I had the privilege to visit the landmark Maker's Mark Distillery in 2014 when we worked together to install The Spirit of the Maker," said artist Dale Chihuly.  "I was inspired then by its unique landscape and architecture and am excited to share my work from the perspective of its special surroundings."
Chihuly at Maker's is comprised of six large-scale art installations sited throughout the distillery grounds.  From July through October of this year, the Maker's Mark Distillery will be transformed by Chihuly's dramatic works of art purposefully set throughout the historic landmark campus to complement the distillery's landscape and architecture. Included in the exhibition is: Summer Sun, a 12-foot tall blown glass and steel sculpture; a collection of five fiery-red Baskets; and an 18-foot wide Crimson and Chestnut Fiori Boat, which combines a range of forms massed together in a traditional wooden boat.
The Sapphire and Platinum Waterdrop Tower, which stands at approximately 12-feet, is a classic demonstration of Chihuly's desire to mass color on a steel armature for dramatic effect. For centuries, blown glass pieces were small, intricately designed and admired from atop a table. In contrast, Chihuly's Towers rise from the ground like huge stalagmites and have been an iconic aesthetic of installations in art museums and botanical gardens worldwide. Like all Chihuly sculptures, the Sapphire and Platinum Waterdrop Tower was designed specifically for its location, in this case, in front of the distillery's cellar and natural water source.
"Just as my grandparents, the founders of Maker's Mark, first envisioned, we're committed to enhancing our visitor experience with culturally immersive opportunities unlike any other distillery in the world," said Rob Samuels, the eighth-generation whisky maker and Chief Operating Officer of Maker's Mark. "Creating our handmade bourbon isn't a job – it's an art form. It's an honor to have formed such a lasting relationship with world-renowned artist Dale Chihuly."
Chihuly at Maker's is one of several site-specific installations from Chihuly that have been featured at high-profile locations around the country, including recent exhibits at Crystal Bridges Museum of American Art, the New York Botanical Garden and the Catalina Island Museum in Avalon, California.
The official Grand Opening of Chihuly at Maker's will take place Saturday, July 1, 2017 at 6:30 p.m., with a viewing picnic at the Maker's Mark distillery. Admission is $50 and includes a meal and two drinks from the distillery's new fast-casual restaurant, Star Hill Provisions™. From July 1 – Oct. 31, admission to Chihuly at Maker's is included as part of the tour ticket cost ($12) during the distillery's daytime operating hours, Monday through Saturday from 9:30 a.m. – 3:30 p.m. and Sundays from 11:30 a.m. – 3:30 p.m.
In addition, on Saturday nights from July 22-Oct. 7, visitors will be able to enjoy the remarkable art of Dale Chihuly in a new way with "Chihuly Nights," an exclusive and stunning look at the exhibition after dark. As the sun sets, guests will experience the enchanting glass sculptures glowing with light against the dark Kentucky sky. Maker's Mark Bourbon and cocktails alongside fine Kentucky fare from the distillery's resident chef, Newman Miller of Star Hill Provisions, will be included. Admission to Chihuly Nights is $20 and includes admission to the distillery grounds for self-guided tours. Separate tickets are required for day and night.