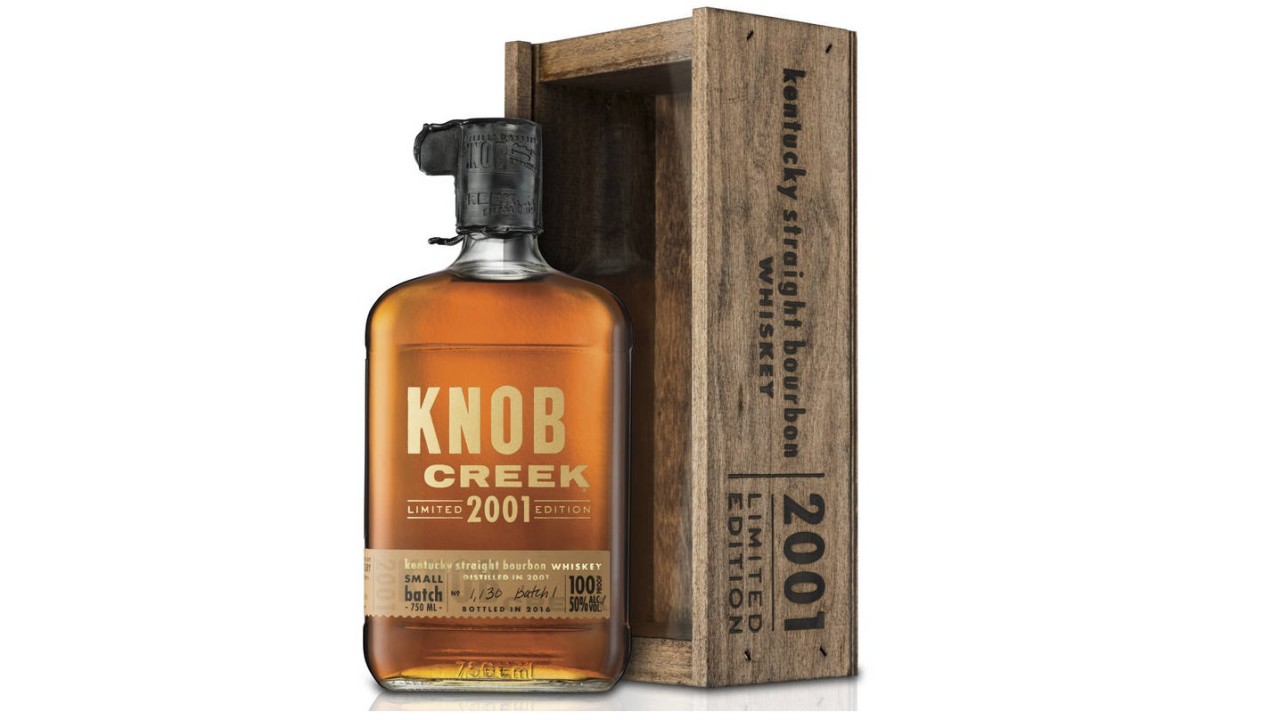 Jim Beam released two new whiskeys this spring, Booker's Rye and Knob Creek 2001. The Knob Creek brand started in 1992 as a part of the Beam Small Batch Bourbon Collection (although Chuck Cowdery has a great post about how the brand may go back even further). It's one of my perennial favorite everyday bourbons so I was pretty excited about this release.
Knob Creek 2001 Press Release
Knob Creek 2001 Limited Edition Bourbon commemorates a significant year for Knob Creek, as late in 2001, the tradition and responsibility of stewarding Knob Creek Bourbon was passed from Booker to Fred — from father to son. This release, made from barrels that Booker laid down in 2001, was finished by Fred Noe in honor of all he learned from his father and stays true to the pre-prohibition standards that Booker sought to restore when he introduced Knob Creek Bourbon. Bottled at 100 proof and aged for 14 years, longer than any other Knob Creek release to date, this bourbon has an even bigger, fuller flavor than what Knob Creek fans have come to love. It will be released in three limited batches, each accentuating distinct notes of the 14-year-old liquid, for a suggested price of $129.99 for a 750ml bottle.
Packaged in a commemorative wooden case, Knob Creek 2001 Limited Edition Bourbon was selected with the following characteristics:
Age: More than 14 years
Proof: 100
Color: Deep golden amber
Aroma: Robust oak and char notes balanced by sweet vanillas and caramels with a hint of warm brown spice
Taste: Complex oak and char notes with subtle vanilla and warm spice

Batch One: Higher in sweet notes, vanilla, and caramel; very smooth
Batch Two: Higher in wood and oak notes; more tannic in nature
Batch Three: Mid-way between Batch 1 and Batch 2, slightly favoring notes of wood

Finish: Smooth and warm sweetness
Knob Creek 2001 Review
This review is going to be a little unique. First, here are my tasting notes from the day I opened the bottle: heavy mint, char, and spice. Slightly sweet but more herbal and spicy. Reminds me of an over proofed Basil Hayden. If you're a fan of drier bourbons or Four Roses OESQ, you will enjoy this bourbon. Second, here are my notes after tasting the bourbon two weeks later: sweet, cherry, and spice. There's some vanilla, oak, and tobacco on the finish. I'd still put it in the "dry" bourbon category but a much higher level of sweetness after being opened for a couple weeks.
This bourbon morphed more in two weeks than any other bourbon I've had. Initially, I thought I had a bottle from batch two based on the flavor notes in the press release. After getting some air the bourbon tasted much closer to the batch one notes. The ultimate question is does it merit a $130 price tag. I don't regret buying my bottle but I don't think I'll grab a second. Part of the reason is because Knob Creek private barrels are too good for $40. If you're looking for a special occasion bourbon this is a good option.
I'll be interested to see how the other batches turn out. There's around 12,000 in each batch so finding a bottle should be too hard.