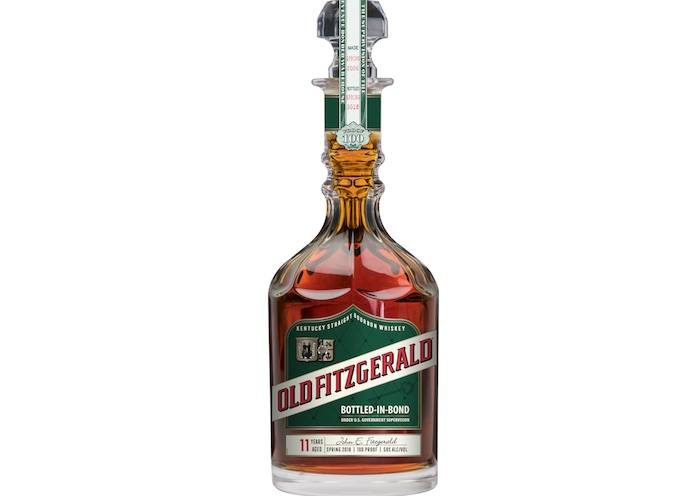 Heaven Hill recently released their Old Fitgerald Bottled-In-Bond decanter. This is an 11-year-old, 100 proof bourbon. It will retail for $110. If you're not familiar with Bottled-In-Bond requirements, here's a crash course. The bourbon has to be, 4-years-old or greater, from the same distillery, in the same distilling season and at 100 proof. Here is more information from the Heaven Hill press release:
Heaven Hill is proud to offer a premium, allocated product within the Bottled-in-Bond class that showcases the authenticity and quality of the American Whiskey portfolio. Acquired in 1999 by Heaven Hill, the legendary Old Fitzgerald line is well-known for its distilling pedigree and intriguing story behind its namesake, John E. Fitzgerald. The first release is comprised of barrels produced from February through May of 2006, and bottled in April of 2018.

The newest bottle is inspired by an original 1950's Old Fitzgerald diamond decanter, as the brand was traditionally bottled in artistic decanters of all shapes and sizes. The label features the time-honored graphic of a key, commemorating an important element in original labels and the brand's slogan since the 1940's, "Your key to hospitality." Kentucky's state seal and a prominent brand banner replicate a pre-Prohibition label. Spring editions will be denoted with a green label and fall editions with a black label. The age will change with each edition and will also be indicated on the bottom of the label.
Old Fitzgerald Bottled-In-Bond Review:
The nose is honey, oak, leather, and spice. There is a lot more leather and spice on the nose than I would expect for a wheated bourbon this age. The taste is typical bourbon notes of vanilla and caramel. But, the heavy leather and spiciness show back up. It progresses to a short and hot finish. It's very dry on the finish with mostly oak and black pepper.
Conclusion: For me, this is an easy pass based on the taste. I'll still try to grab a bottle or try a sample from a friend to compare to this sample. But, nothing about this bourbon screamed $110. That is except the bottle. I love this bottle. I think it's one of the best packagings I've seen in the last couple of years. Maybe Heaven Hill thought that would be enough to sell. They're probably right.
Anyways, Heaven Hill has nothing to worry about. Between Elijah Craig, Henry McKenna and Evan Williams single barrel, they're providing some of the best bourbon available today. And, those three bottles I just mentioned are all around $30. It will be interesting to see how the next batch progresses.