I'm a big Smooth Ambler fan. Not that it should matter. But, more context is needed around bourbon and whiskey reviews today. It's possible that these preferences make their way into reviews but I do my best to block them out. I should also say that this wasn't a distillery or PR sample. I purchased this bottle on my own. I like Smooth Ambler because they make and bottle great bourbon. So do many other distilleries and brands. I'm a fan because of how they handle their business and interact with customers. They've always been straightforward with their customers. Even when it's bad news. I see Smooth Ambler guys hop into the bourbon Facebook groups to answer questions. Even when it's criticism or negative feedback. They appear to genuinely care about the people buying their products.
I first interviewed John Little, one of the Smooth Ambler founders, in 2014. The distillery has grown and acquired by Pernod-Ricard since then. Yet, not much about the process seems to have changed post-acquisition. There wasn't a significant drop in quality or increase in prices. From the outside, the only noticeable change is the additions to the distillery. Smooth Ambler is focused on their core whiskey line: Big Level, Contradiction, American Whiskey and, Old Scout. Some of my favorites like the rye and 10-year are gone. I'm excited to have more West Virginia bourbon. Big Level Bourbon didn't come with a huge PR splash. It's not priced at $100+. Smooth Ambler isn't pushing people to buy because it may be worth thousands of dollars in a few years. They're releasing great bourbon as fast as they can.
Smooth Ambler Big Level Bourbon Review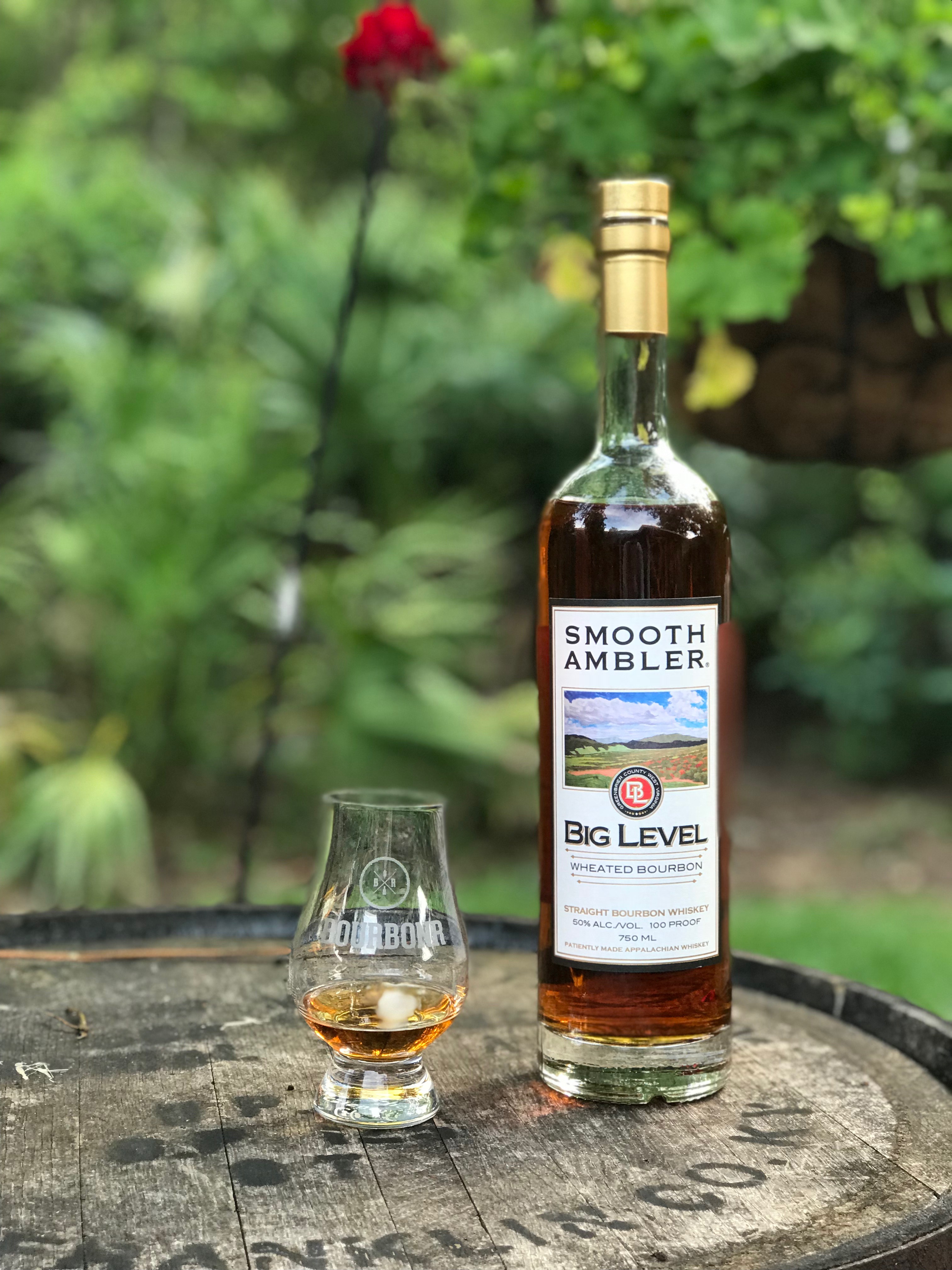 Big Level Bourbon is a wheated bourbon 100% mashed, distilled, aged, proofed, and bottled at the Smooth Ambler distillery in West Virginia.  No chill filtration.
Mashbill:
71% Corn, 21% Wheat, 8% Malted Barley
Distillation Process
Both continuous column and pot distillation
Aging
5+YO  spirit, aged in #4 char 53-gallon barrel
Source  of  grains
Grains from a variety of sources.
Annual  Production
3000, 53-gallon barrels per year.
The nose is initially sweet with some spice and a whiff of ethanol. That taste is toffee and butterscotch with cinnamon. Great spice and oak. It does lean a little heavy on the oak and shows a little bit of the age. But, as it moves from palate to finish there are tons of green apple, pear and caramel notes.
Conclusion: For $55 I'd picked up a second bottle. I really enjoyed it. It's a little out of balance at times but overall a good bourbon. I spoke to John Little about the last Wheated Bourbon release. He kept reiterating how they've improved their whiskey making process. They seem proud of this release but keep pressing forward knowing that they're still making better bourbon.