Update 10/7/13: Old Rip Van Winkle has not set a release date for Pappy.
Breaking: 10/12/13 Pappy is spotted in Louisville at Party Source. Apparently, people were camping out in line the night before. Pappy is the new iPhone!!! Except the iPhone never brought me this much joy
Old Rip Van Winkle did announce that they were not going to have a Spring 2013 release. That should mean more bottles for the Fall!
Pappy Guess:
Mid-October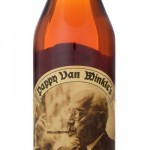 Did you ever wonder when Pappy became so popular? Check out our recent blog post 
Looking for a way to keep track of all the whiskies you've tasted? Go over to Bourbonr.com. A fast and simple way to keep track of your likes and dislikes