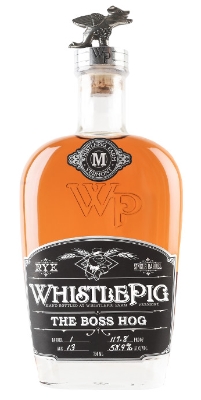 The Boss Hog: Spirit of Mortimer
There's no doubt WhistlePig has had some bumps in the road however I've always liked their whiskey. It appears that they've finally coming clean about their Canadian whiskey roots which is a good thing. I hope they've figured out that today's bourbon/whiskey drinker would take transparency and good whiskey over a magical fairy tale and good whiskey. Pretty expensive at $189 but that's the new normal. Read the press release below. The bold highlights have been added by me and are the important parts if you're looking to skim.
SHOREHAM, Vt., Nov. 4, 2014 – WhistlePig Straight Rye Whiskey proudly announces the arrival of The Boss Hog: Spirit of Mortimer, the brand's much-anticipated follow-up to last year's Double Gold Medal winner at the San Francisco World Spirits Competition. This top-shelf 100 percent rye whiskey is bottled at full barrel strength; and at approximately 117 to 124 proof, Spirit of Mortimer continues The Boss Hog legacy as WhistlePig's rarest premium expression.Dedicated to WhistlePig's dearly departed mascot, a Kune Kune heritage-breed pig named Mortimer, each bottle of The Boss Hog: Spirit of Mortimer is sealed with a custom, hand-crafted Danforth Pewter top, depicting its winged namesake in flight.
"The [original] Boss Hog was a huge success for us last year," said WhistlePig Founder and CEO Raj Bhakta. "We didn't want to simply reissue that edition for 2014, so we seized the opportunity to pay tribute to our beloved Mortimer in the most fitting way possible – by debuting our richest offering yet."
Only WhistlePig's finest barrels were eligible for The Boss Hog: Spirit of Mortimer.
Aged nearly 14 years, 50 barrels
were hand-selected by Master Distiller Dave Pickerell to comprise the exclusive release."The taste signature stays in-line with the high standard set by past [WhistlePig] releases," says Pickerell. "It maintains WhistlePig's familiar deep amber color and rich notes of caramel, vanilla and oak, with undertones of mint and winter fruit, making for a warm, bold taste."
The Boss Hog: Spirit of Mortimer is available now at distributors and retail locations nationwide and carries a suggested retail price of $189 for 750ml.
About WhistlePig Straight Rye Whiskey
WhistlePig is dedicated to
curating the finest barrels of rye whiskey
available and to realizing a relentless aspiration in becoming the world's premier single-estate luxury whiskey brand. Master Distiller Dave Pickerell spent over a year scouring the world for the most superb old-stock rye whiskey and hand-selected the
best barrels – found in the foothills of the Canadian Rockies
– to comprise WhistlePig's top-shelf profile. The liquid has garnered extraordinary praise from whiskey critics, including a 
Wall Street Journal
selection in the Top Five Whiskies of 2010, and earning 
Wine Enthusiast
's highest-ever rating for a rye whiskey. WhistlePig Farm is a working agricultural headquarters situated on 1300 rolling acres near Lake Champlain and the
future site for the brand's grain-to-bottle single-estate distillery
in Shoreham, Vermont.