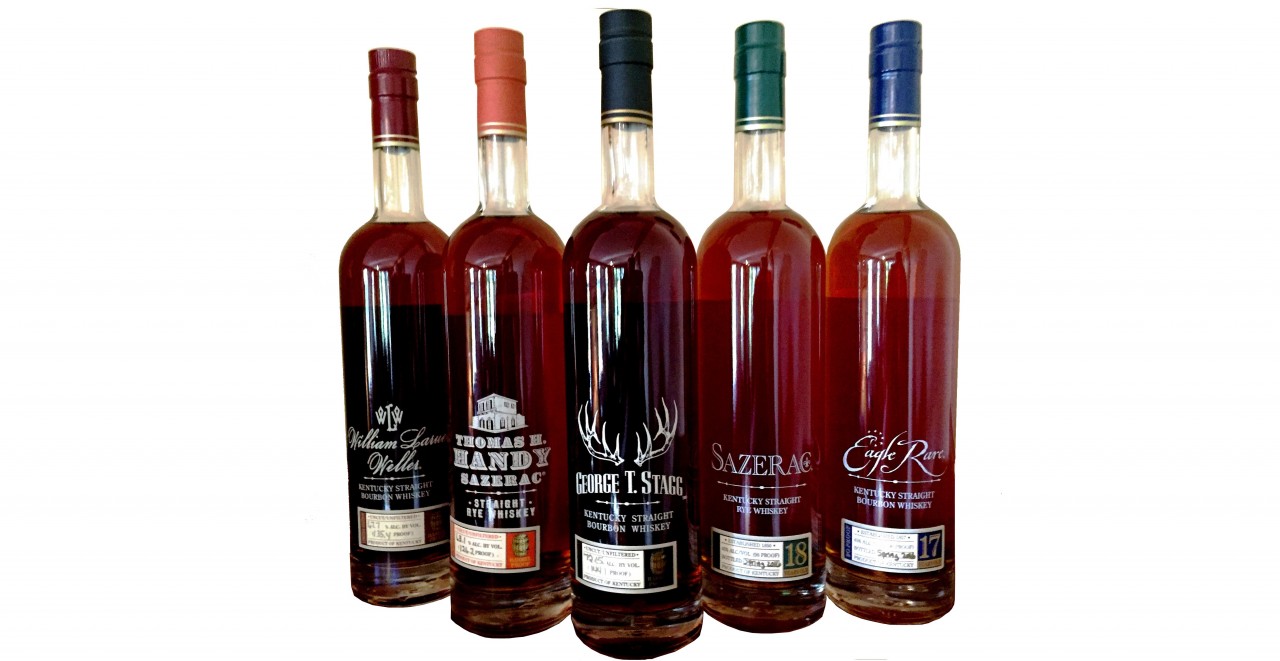 Welcome back to another year of Antique Collection reviews. With last year's reviews, I climbed atop my soap box to talk about the discrepancies between LE review and everyday bourbon reviews. I plan on keeping this review focused on the whiskey (but I still think limited edition reviews are an issue). I look forward to reviewing the Buffalo Trace Antique Collection more than any other limited edition whiskey. This year's release had its quirks but let's dive in.
You can read the full press release here but here are some important facts about 2016 BATC. First, Stagg hit hazmat (140+ proof) again this year. Second, William LaRue Weller has an estimated bottle count of double last year's release. Third, this is the first year Sazerac 18 wasn't pulled from stainless steel tanks since 2005. Finally, some good news! Estimated bottle counts are up 30% according to Breaking Bourbons count.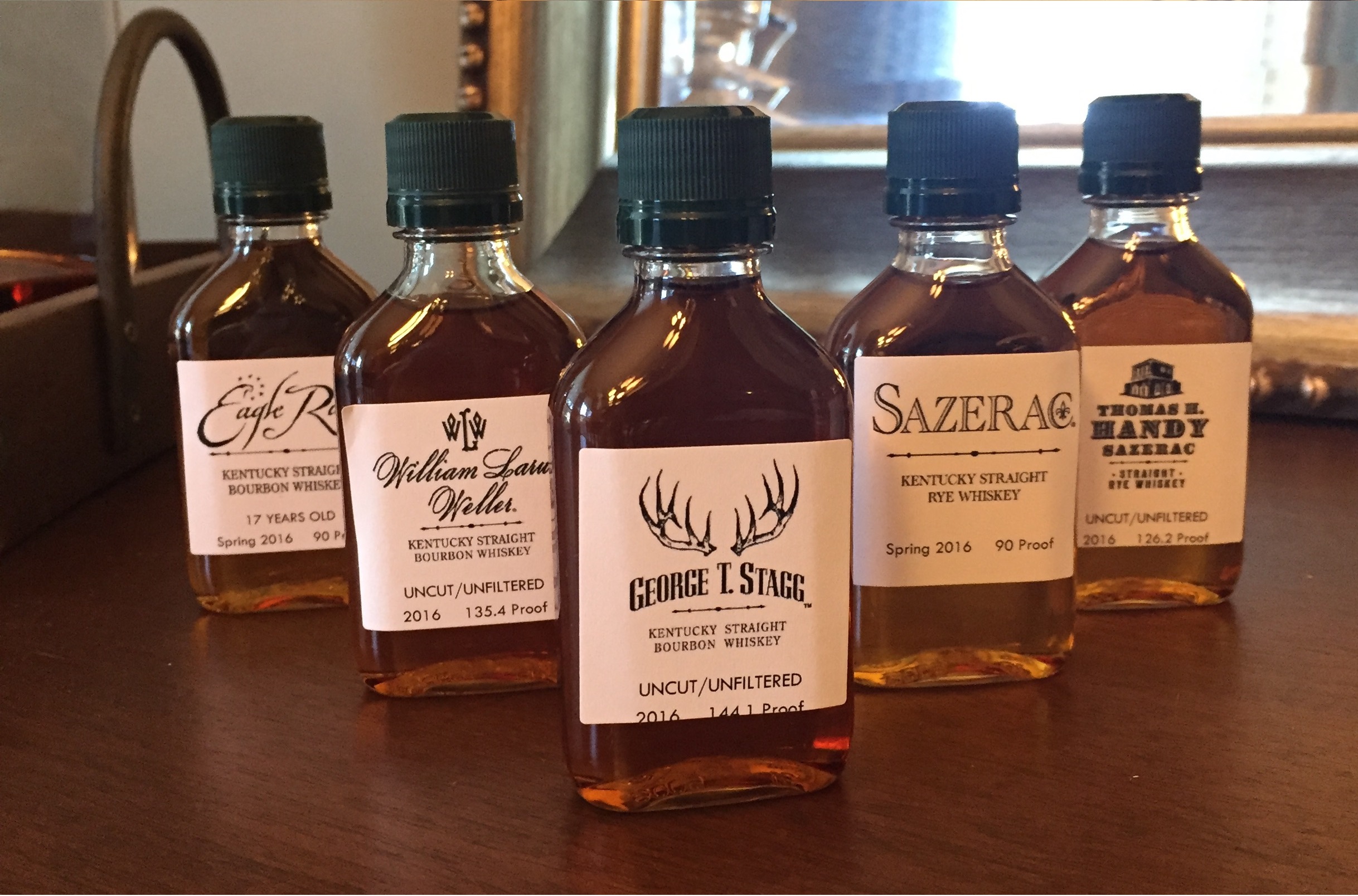 William LaRue Weller Review
The first thing I notice about the WLW hit a great dried fruit (apricot) and vanilla. It's almost like a spiced fruit cake. It has a great mouthfeel and tastes almost syrupy.  The oak comes through with a great balance. That fruity, caramel taste is great. What's interesting is that even though WLW is the second highest proof in the collection it has the lowest entry proof. Buffalo Trace wheated bourbon enters the barrel at 114 proof. That means the 2016 WLW increased by 21.4 proof points. The finish on the WLW brings it home for me. It's a good mix of fruity sweetness and oak.
Conclusion: This is great. I would expect nothing less from the Weller line. As we'll see with the other releases, it can be tough to consistently put out such a quality product.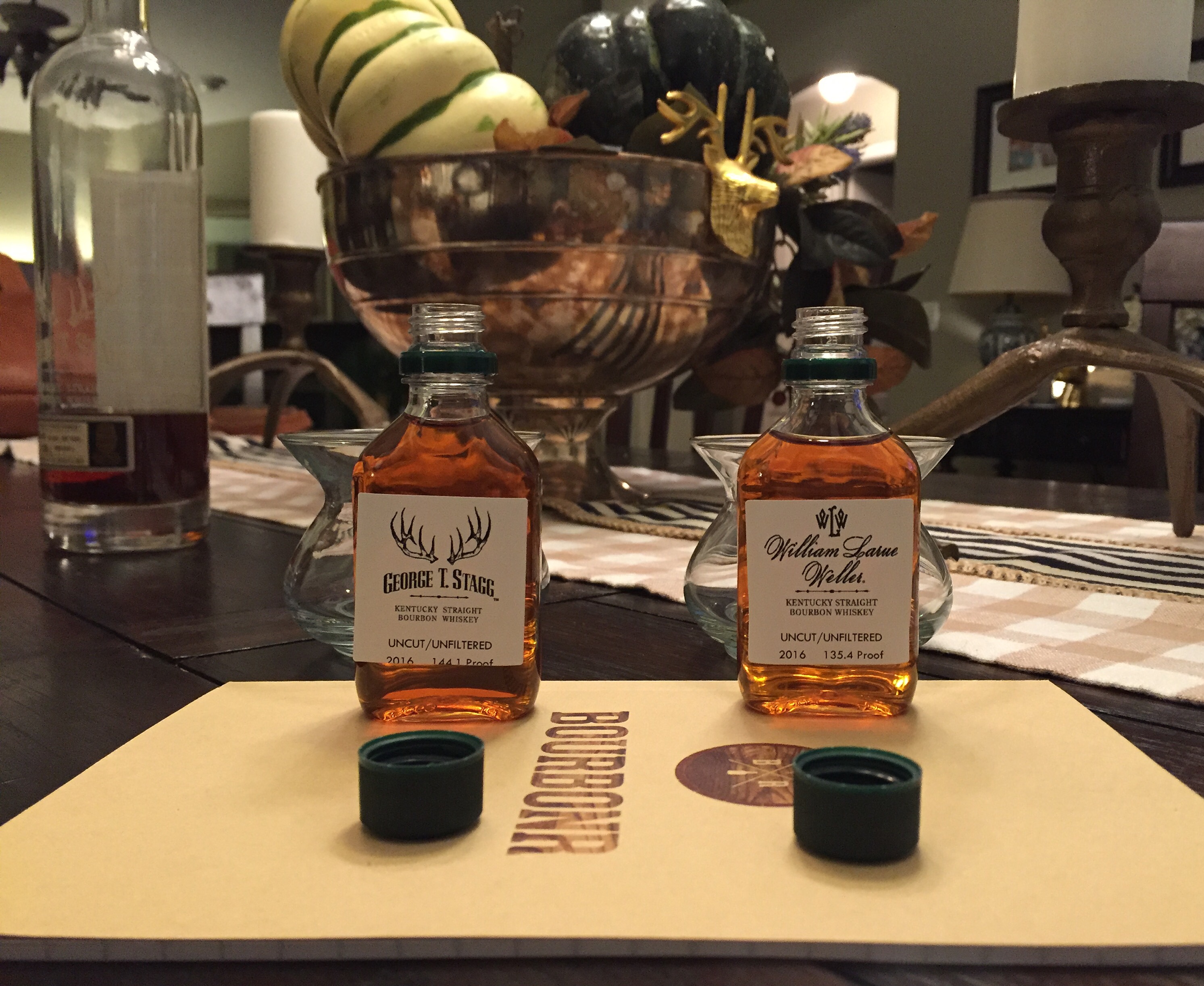 George T Stagg Review
The nose is brown sugar, cinnamon, and dark cherry. It's a little oaky. It's hot but what do you expect when the bourbon is 140+ proof. The taste is sweet. There are the brown sugar and dark cherry syrup notes. It has a nice honey and vanilla taste. That taste is slightly floral. But, the finish gets a little too tannic. It's charred but hot. My guess is this comes from the higher proof.
Conclusion: Stagg is my perennial favorite. With that said the '16 GTS fell a little short for me. I tasted it next to the '14 release and the '14 was noticeably better. The taste is still good but the finish fell apart for me.
Thomas H Handy Review
The nose is woody and herbally. It's sweet like bubble gum and vanilla. The taste is peach tea. While it has the sweet herbal taste, it's fruity like a spiced cobbler. Mint and pepper show up late to the party but create a nice balance.
Conclusion: I'm not a self-proclaimed rye lover. The site is Bourbonr for a reason. I loved the '16 THH. Forget that it's 1/3 the age of Sazerac. This is a great whiskey and doesn't get enough recognition.
Sazerac 18 Review
You're immediately hit with the rich oak nose. It's almost a raspberry preserve. The oak is apparent in the taste. It's like eating almond butter toast with raspberry jelly. The taste is lighter than previous years. It doesn't have that dark rich flavor the Saz 18's of the past have had. The finish is a little peppery and oaky but ultimately falls a little short.
Conclusion: This is the most highly anticipated review in the lineup. Is it better (or as good) and previous year? No. I did think it was close to the original Saz 18 flavor profile, though. It's a great whiskey. It just has huge shoes to fill. I'm excited to see this release in the future as BT has a larger batch of barrels to choose from.
Eagle Rare 17 Review
The nose is honey, orange peel and oak. It's surprisingly hot considering it's 90 proof. The taste is pretty straight forward with caramel, vanilla and spice. While the taste is pretty good it drinks hot. The oak and tannic finish doesn't leave a great impression.
Conclusion: ER17 is a distant 5th place. It was too dry and hot for my taste. What's funny is I've seen a couple reviews that loved it. I thought it was bad. To each his own, I guess.
BTAC Results
How do they rank? Others have already been critical about this years BTAC lineup. I'll admit several of the 2016 releases are down compared to prior releases. For the first time ever I will include Handy in my top two. As a huge Stagg fan it's hard to admit but the Handy was better this year. The WLW will take the first spot. Which is a good thing since it has one of the highest bottle count.
What I love about the Antique Collection is how it has a life of its own. Each release is different from the previous year but still keeps a consistent flavor profile. Bourbon aging is unpredictable. Yet, Buffalo Trace manages to create unique, dependable lineup year after year.
Don't forget to follow the Bourbonr BTAC Release Map! There are a few states that should be dropping any day now.