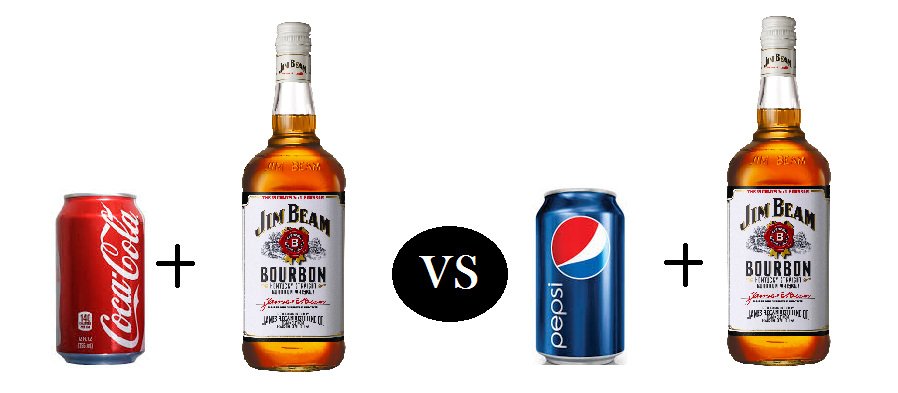 You're probably thinking "does a winner need crowning?" Bourbon purist wouldn't dare add anything to their bourbon. Much less cheap sugar water. However, bourbon and cola is a timeless mixed drink. Some prefer coke; others prefer Pepsi. What remains the same is the bourbon. I've been testing different recipes of bourbon and colas for a long time. Some could say I may have put in a little too much research in my college years. I decided to set up a blind tasting to find the answer. I know everyone is dying to hear "what makes the best bourbon and cola?"
If you follow me on Instagram, you may have seen my picture from this weekend. The blind tasting included seven different colas:
Coca-Cola
Coke, Coke Life and Mexican Coke (aka real sugar).
Pepsi C0.
Pepsi, Vanilla Pepsi, 1893 Pepsi and 1893 Ginger Pepsi.
I recruited some of the best tasters I know for this experiment. Unfortunately, none of them cared to take part in this tasting, so I was stuck with a buddy of mine and my brother.  Despite thinking, they were coming over only to watch the GSW v. OKC game 7 the tasting was a success.
My tasting notes:
1 –  A lot of vanilla. Has to be Pepsi vanilla. I like it but I really like vanilla coke so I'm not sure how that fits into the overall tasting.
2 – Not as sweet. It's refreshing and the bourbon pairs well
3 – Huge kick of ginger. Not a fan of ginger and coke. Would fair better in a mint julep type of drink
4 – Straight forward. Notes of vanilla and clove
5 – Similar to 4 but a little sweeter
6 – This is really good. The right amount of sweetness. Hard to out actual tasting note to it other than to say it's better than the others
7 – Wow. This is fantastic. Hands down favorite. I even tasted back through all the glasses again and it still stands out as the best.
The Reveal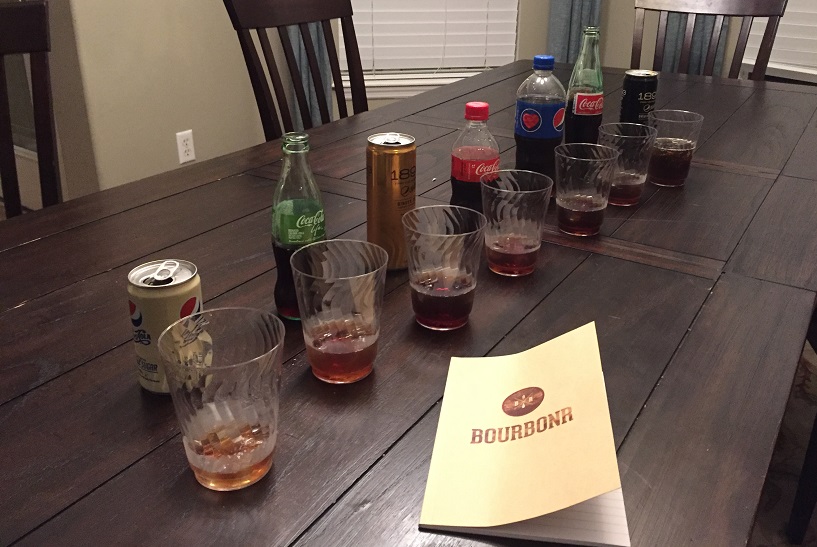 1 – Vanilla Pepsi
2 – Coke Life
3 – Pepsi 1893 Ginger
4 – Coke
5 – Pepsi
6 – Mexican Coke
7 – Pepsi 1893
The Winner
Pepsi 1893 Original Cola was the winner by a significant margin in my book. It was the only cola that showed up in all three tasters top 3. I've seen Pepsis commercials obviously marketed to the whiskey crowd. There's a guy tasting 1893 out of a snifter and he's surrounded by barrels. I was sceptical of the marketing but the product is really good. I don't want to sound like part of their advertising strategy but if you like bourbon and cola, 1893 is worth trying out. Second place goes to Mexican Coke. I was surprised how much of a flavor difference there is between the same cola sweetened with real sugar and hydrogenated corn syrup.
Conclusion: Enjoy your bourbon however you choose. But, if you plan on mixing, I'd stick with bourbons that cost $15 or less for 750 ml bottle.