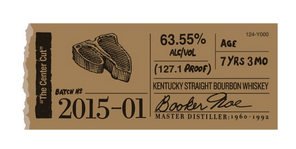 2015 Booker's Roundtable Selected
Jim Beam has released the third Booker's of 2015 and it is also a roundtable pick (what do I have to do get get a chair at that roundtable?!). If you're not familiar with the roundtable read Chuck Cowdery's post on how it works. TL;DR: Fred Noe (Beam's Master Distiller and son of Booker Noe) and several other bourbon/whiskey writers sample different batches of Booker's and select the best. The 2015-03 bottle label will feature  Booker Noe's favorite part of the rackhouse and choice cut of meat – "The Center Cut." Here are the other important facts about this bottle:
Proof: 127.2
Age: 7 years, 2 months and 28 days
Retail: $55
Booker's Roundtable 2013-06 is still one of my favorite bourbons to drink and I'm sure this panel of whiskey enthusiast has done a great job selecting this batch.

Booker's® Bourbon Roundtable Selects Next Batch in 2015 Limited-Edition Release Collection
Louisville Chef Joins Roundtable to Choose Booker's® "The Center Cut," an Ideal Batch for Food Pairing
CLERMONT, KY–(Jun 9, 2015) – Booker's® Bourbon, one of the few bourbons available uncut and unfiltered*, is proud to release the third batch in its 2015 collection, Batch 2015-03, which features a custom label celebrating founding distiller Booker Noe's favorite part of the rackhouse and choice cut of meat — "The Center Cut."
Booker liked to age his namesake barrels in the center of the rackhouse — the 5th floor — to achieve the robust flavor that Booker's Bourbon is known for. This is where the temperature, humidity and sunlight combine to produce perfect aging conditions. As for the meat, Booker liked to cure his own and enjoyed nothing better than a thick slice from the center.
Batch 2015-03, named the "The Center Cut," is the first batch in the 2015 limited-edition collection that Fred Noe, Beam's 7th Generation Master Distiller, selected with the help of the Booker's Bourbon Roundtable, an exclusive group of top whiskey experts, enthusiasts and writers. For the first time ever, the Roundtable was also joined by local Louisville, Kentucky chef, Coby Ming, who used her culinary expertise to help select a batch that embodies Booker's whiskey preferences and ensures an ideal flavor profile for food pairing.
"It was Dad's tradition to gather friends around his kitchen table to taste and select the next batch of Booker's Bourbon, and I'm proud to honor his legacy with this first Roundtable selection of 2015," said Fred Noe. "This batch gives Booker's Bourbon fans a look at the man behind the bourbon. A man who enjoyed the simple things in life, including a strong, robust bourbon, a juicy center cut of meat, and family and friends to enjoy it with."
In addition to Fred Noe and chef Coby Ming, the Roundtable panelists who helped select Batch 2015-03, "The Center Cut," included the following:
Chuck Cowdery, Blogger and Author of "Bourbon, Strange: Surprising Stories of American Whiskey"

Geoff Kleinman, Founder and Managing Editor of DrinkSpirits.com

John McCarthy, Spirits Writer and Senior Managing Editor of Men's Health Magazine

Jack Robertiello, Spirits Writer and Spirits Competition Judge

Tony Sachs, Spirits Writer and Huffington Post Blogger
The panelists and guest chef selected Booker's® "The Center Cut" with the following characteristics:
Proof: 127.2
Age: 7 years, 2 months and 28 days
Nose: Vanilla with oak
Finish: Long, sweet finish
Sipping Suggestions: With ice or cut with water
Uncut and unfiltered* — like all Booker's Bourbon batches before it — "The Center Cut" features the robust flavor and natural proof that Booker's Bourbon is known for and will be available nationwide beginning this month with a suggested retail price of $54.99 per 750 mL bottle.
*Booker's® Bourbon is quality screened to remove only pieces of charred barrel wood from the liquid.
About Booker's® Bourbon
Booker's® Bourbon was inspired by a 200-year-old family tradition and came to life when Booker Noe selected the first bottles of Booker's as holiday gifts for his friends and family. With its instant popularity within Noe's close circle, Booker's Bourbon was soon after bottled and made available on shelves for everyone to enjoy. Booker's Bourbon is one of the only bourbons bottled unfiltered* and at its natural proof, which varies from batch to batch. Crafted in small batches and aged for six to eight years in charred oak barrels, which are stored in the center of the rack house, Booker's Bourbon is hand-selected barrel-by-barrel by Fred Noe to ensure every bottle contains a robust, full-bodied whiskey that has a taste, aroma and proof that matches Booker's whiskey preference.
For more information on Booker's Bourbon, visit: http://www.BookersBourbon.com.