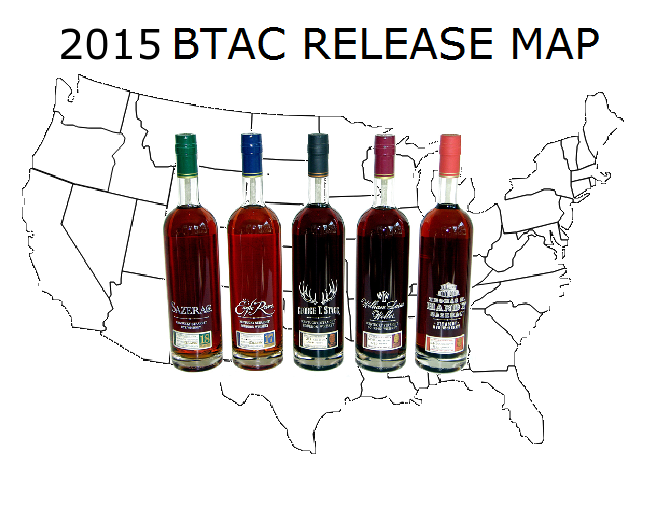 BTAC Release Map
Please Read: Each state is highlighted once one bottle is reported. Generally, that means that store, and a lot of times that city, is already sold out. This map isn't an official release tracker from Buffalo Trace but a network of bourbon drinkers looking to help each other. Stores are dealing with smaller allocations and greatly increased demand. Please be understanding of this fact. Happy Hunting!
This is the 3rd annual BTAC Release Map. Here's the drill I'll update each state when the antique collection is released in that state. Remember, distribution can be tricky sometimes and just because it has released in part of the state doesn't mean you've missed out.
It's an improved map. If you hover over the state that has released I've started to add the cities. If you need more help check out my post "How to Hunt Bourbon" Happy Hunting!
If you find a bottle please shoot me an email at Blake @ Bourbonr.com. I welcome any tips about state releases as well!

2015 Buffalo Trace Antique Collection Release Map
Don't want to worry about hunting a bottle? Find a bottle at 
Bottle-Spot
9/15 – Georgia becomes the first state to release Buffalo Trace Antique Collection. Let the games begin!
9/23  – Buffalo Trace Antique Collection has hit North Carolina
9/24 – Southern Illinois receives BTAC (WLW and Handy)
9/25 – Montana now has BTAC
10/2 – BTAC is in Iowa and Virginia
10/5 – Delaware sees its first bottles of the Antique Collection. Now Maryland (Montgomery Co. which apparently does its own thing and the rest of the state will probably release later this month) has notified winners in their lottery system
10/6 – Antique Collection hits Kentucky and California with 2 huge asterisks. In Kentucky, a Party Source in N. KY's allocation was so low that they don't plan on releasing but are saving for in-store tastings (can't blame them). In California, I confirmed a bottle but this appears to be an accident as all of my other contact (big box stores) haven't received theirs yet. This is good news and bad news. Now is the time to start hunting!
10/7 – Nebraska now has BTAC
10/8 – BTAC is in Indiana (sold out in a store in Indianapolis to be specific). People in Indiana I'd like to see get a bottle: Larry Bird, Bobby Plump or Norman Dale and Lil Sebastian
10/9 – There have been several sightings of BTAC (apparently there are 2 distributors so only GTS, Saz and ER17 for now) as well as bottles of BTAC in Nevada (specifically Las Vegas). I'm also hearing rumors of the Antique Collection in Utah. I'll report back shortly. Utah has officially released
10/12 – BTAC confirmed in New Mexico
10/13 – Wisconsin receives a smaller than normal allotment of the Antique Collection
10/14 – BTAC continues its trek across Big Ten country releasing in Michigan (Southeast confirmed) today 
10/20 – BTAC shows up at Restaurants in Ohio. Appears to be the same story in Rhode Island.
10/21 – Washington DC receives BTAC today
10/22 – Mississippi receives it's first bottles of the Antique Collection
10/23 – Buffalo Trace Antique Collection (at least Saz and ER17) spotted in Missouri. 
10/28 – Everything's bigger in Texas… except for their BTAC allocation.
10/29 – Minnesota releases their BTAC
11/3 – BTAC hit NYC this morning/yesterday night
11/9 – The Antique Collection hit Alabama. Roll Tide! Tennessee received their allocation as well
11/10 – West Virginia is now on the BTAC list
11/16 – South Carolina releases BATC and Pappy together. BTAC has now made its way to New Jersey
11/17 – BTAC in Arizona. Buffalo Trace Antique Collection has also arrived in Louisianna and Massachusetts 
11/18 – BTAC in North Dakota
11/19 – BTAC releases in Colorado
11/20 – Florida receives BTAC (and I remain bitter without a bottle). Now in South Carolina
Thanksgiving weekend – Maine and PA lottery winners announced
12/4 – Connecticut gets BTAC
12/8 – BTAC in Washing and South Dakota. Antique Collection now in Oregon